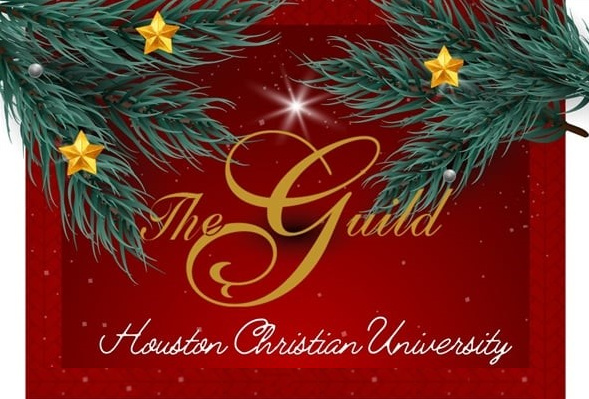 Annual Christmas Lunch
River Oaks Country Club
Guest Speaker: Dr. Robert Sloan
Friday, December 2, 2022
Joy to the World, The Lord has come!
The annual Guild Christmas Luncheon was held at the beautifully decorated River Oaks Country Club on December 2. The ballroom was lovely with centerpieces of red poinsettias cradled in crushed mercury vases. Guild President, Jeanne Walker, opened the event by welcoming our members and guests, reminding us the "Reason for the Season" is the birth of our Lord Jesus Christ. Chaplain Debra Perich gave the invocation. JJ Worthen, a 2006 graduate of HCU, performed three beautiful selections during the luncheon. Abigail Olds, an Endowed Scholarship Recipient expressed her gratitude to The Guild for the scholarship and shared plans for her future in ministry. Jamie Ivey, our guest speaker, was unable to attend due to a sudden illness. Guild Vice-President, Cathy Wheatley introduced HCU President Robert Sloan who shared an inspiring Christmas message.
Christmas Luncheon Co-chairs were Trish Greaser and Jan Bauer who were recognized and thanked for the wonderful event. Trish thanked our guests for attending and encouraged everyone to buy a poinsettia. As is tradition, we ended with singing "Joy To The World." As we concluded the program, a guest stepped up on the podium and asked if she could sing "The Lord's Prayer". It was a touching moment and a very spiritual ending for our Christmas Luncheon 2022.