The Guild Christmas Luncheon
The annual Guild Christmas Luncheon is The Guild members' official start to the holiday season. Godly speakers and beautiful music fills the atmosphere with Joy and Worship, honoring our Lord and Savior, Jesus Christ. Members of The Guild and our guests leave ready to celebrate our Savior's birth. It is truly a wonderful event to share with our friends and family of The Guild and HBU.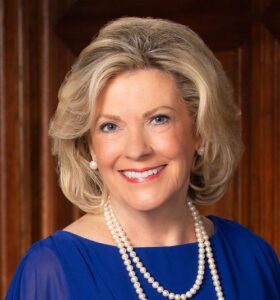 The speaker this year will be Judy Graham. Judy is a past president of The Guild and the current president and cofounder of Celebration, a woman-to-woman ministry of sharing, encouraging, discipling, and mentoring in the faith.  Their focus is presenting the truth and beauty of the message of salvation, healing, renewal and restoration in a manner that reaches the inner-woman.
Watch for your invitation and save the date, Friday, December 1, 2023, for The Guild Christmas Luncheon. Our Chairmen are Cathy Wheatley and Carolyn Moreno.