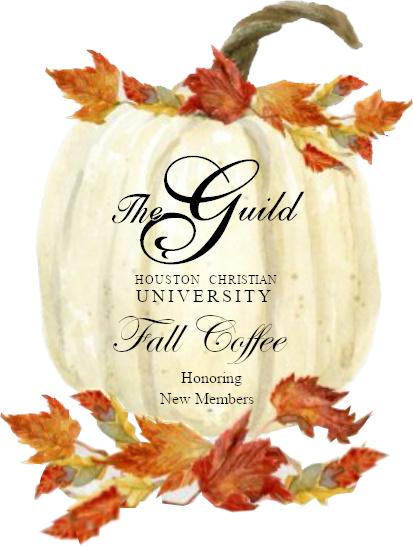 The Fall Coffee was held on October 19, 2023 in the Morris Cultural Arts Center where everyone gathered in the McNair Hall for refreshments and coffee. Attendees were seated in the Belin Chapel for presentation and speakers.
The tables were decorated with orange table clothes and embellished with fall decorations. Each table was decorated with pumpkins, Fall leaves, Thanksgiving ducks, and fall signs from Mary Fischer's home collection.
Dr. David Kirkwood was our vocalist, sang "Give Me Jesus" and Dr. Dan Kramlich accompanied him on the piano. We were blessed and entertained with God's message. Dr. Sloan gave the University Update. Sharon Saunders gave comments on our Scholarship Program and reminded us that our Yearbook is not just phone numbers, but a history of The Guild. Our Scholarship Recipient, Rhett Dunson inspired us with his education journey.
President Jeanne Walker reminded us of the meaning of the Fall Season and the Blessings and Joy we should receive from it.
The Co-Chairs for the event were Carla Stutts and Mary Fischer. It was a lovey morning and a wonderful event to start The Guild's new year.