The Clock Tower
The iconic clock tower that we see today in Philadelphia is not original to the building. The first tower (1750-1781) was shorter, lacked a clock, and held the bell we now refer to as the Liberty Bell. The tower fell into disrepair and was demolished in 1781.
The Liberty Bell had been removed a few years earlier to protect it from the British during the American Revolution. In 1828 the current tower with four clock faces and a new bell was added. In 1876 the Centennial Bell was installed in the tower to celebrate the nation's 100th anniversary.
A facsimile of that bell adorns our tower, though we have opted for a modern electronic clock and bell system that not only chimes on the hour but also plays hymns and patriotic music on special occasions. Our clock tower stands at 170 feet tall, just over a foot taller than the original in Philadelphia.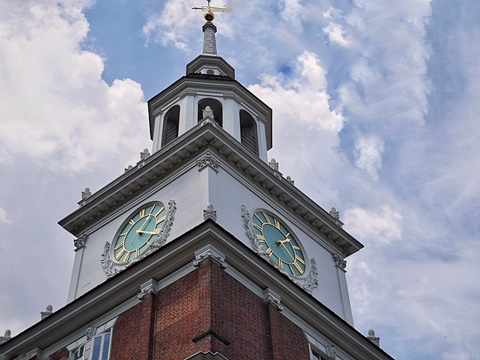 ---
Self-Guided Tour Overview