The Liberty Bell
An internationally recognized symbol of freedom, the Liberty Bell has provided inspiration and hope to generations of Americans. Our copy is made by the same foundry in France that produced replicas for the nation's Bicentennial. The original bell hung in the Pennsylvania State House (Independence Hall) as early as 1753 and was simply referred to as the "State House bell." How the bell cracked is not certain, but after nearly 100 years of use the bell was silenced forever when a repair attempt failed (the large slit up the side of the bell is a failed effort to keep a smaller crack from spreading).
In the early 19th century, Abolitionists were inspired by the Biblical inscription on the bell – "Proclaim Liberty Throughout All the Land Unto All the Inhabitants thereof" – from the King James version of the Bible (Leviticus 25:10). The bell became a symbol of Liberty for a growing anti-slavery movement in a nation that denied freedom to enslaved people.
In the late 19th century, the Liberty Bell made a national tour to remind Americans of their common fight for Independence during the American Revolution, to help unify the nation after a terrible civil war, and to renew the promise of our nation's founding principles for all people.
At the University, students graduating in certain programs ring the Liberty Bell at the end of their senior year as a pledge in their respective vocations to uphold our nation's founding principles.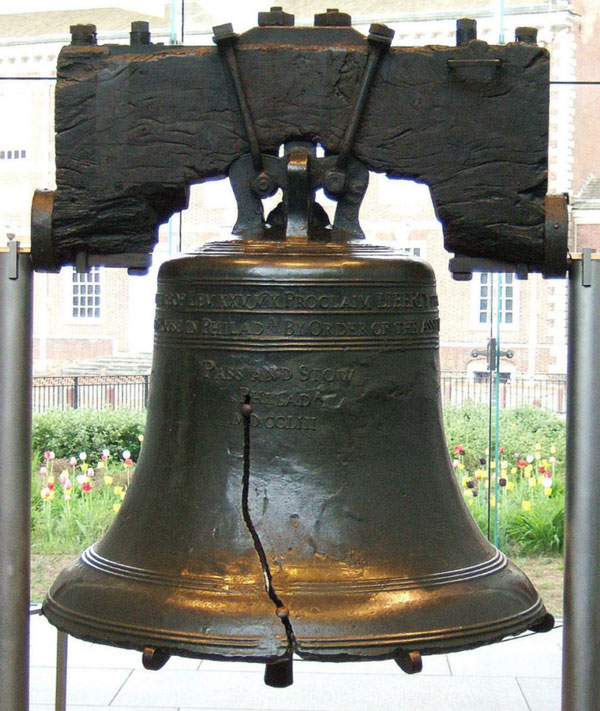 ---
Self-Guided Tour Overview