It's hard to miss senior Tyler Kelly as he makes his way across campus on the way to classes. The 6'5" HBU football defensive end is even taller as he stands on the platform of a longboard. The board, with its vibrant hues and orange wheels, transports him smoothly across the sidewalks.
Kelly got his first introduction to longboards as a teenager when his family lived in Georgia. "My dad has been a pastor a lot of my life. He started this small group for guys," he said. "A bunch of them were interested in longboarding."
Longboards are similar to their skateboard cousins, but with some key differences. "Skateboards are meant more for doing tricks. A longboard is a lot easier to learn and is a smoother ride," Kelly said. "You can be as crazy or as relaxed as you want on it."
At home in the garage, Kelly and his father, Shannon Kelly, along with their small group, began to construct their own longboards. "Everybody drew their own design. We got a bunch of people from around the neighborhood, and we all started making them," Kelly said. "It really took off."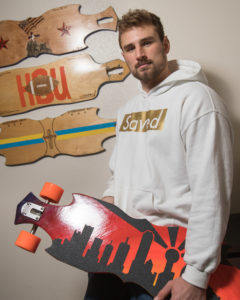 The process to create a homemade longboard is multistep. It starts with strips of Baltic Birch. Six of the strips are then glued together. Having several pieces of wood rather than one gives the board strength and flexibility. The designer draws an image of the desired longboard shape, which can resemble waves, a bird, a scallop pattern, a sword, a cross, or countless other designs. Then, a jigsaw tool is used to cut out the design.
As the board takes shape, sanding makes the edges smoother. Then, the maker can get as artistic as he wants, using a blowtorch to add color dimension and an engraving pen to draw designs and words.
On his go-to longboard, Kelly added a smoke effect on half of the bottom and drew in a large cross, representing going from death to life through salvation. He also engraved Revelation 21 and Ephesians 2 – both passages which address new life in Christ. At the corner, he drew a personalized logo.
He used vivid paint to fill in the cross. Around the board, shades of yellow, orange and red invoke a sunset. Several coats of sealant weatherproofed the design. On top of the board, he placed an impressive rendition of the Dallas skyline, made with a utility knife and black grip tape. Finally, two offset wheels on each end complete the longboard.
Making the boards with spiritual significance and verses was special to Kelly from the time he was a teenager. "Putting some meaning behind it and making it art is a hobby for me, so I enjoy it," he said.
While he finished his latest board at HBU, Kelly doesn't have the tools to complete the whole process on campus. He's had to turn away a number of students who have offered to buy one like his.
"Ever since I've started making boards, people have been asking for them," Kelly said. "They've really loved the design. I've thought about making it a business opportunity and selling to college students."
When he graduates with his degree in international business, Kelly looks forward to embarking in a vocation and plans to go on for his master's degree. "Being a Christian is a big reason why I came to HBU, and also the football scholarship," he said. "It's been a good education and a good place to build on for the rest of my life."