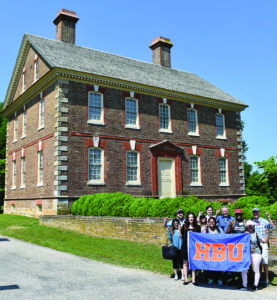 Dr. Chris Hammons, professor of Government and director of HBU's Morris Family Center for Law & Liberty, says that constitutionalism is a culture that must be passed from generation to generation, or it will fade away. "The principles, traditions and stories that bind us together as Americans are in danger of being forgotten," said Hammons, who has been teaching at HBU for 20 years this fall. The Center is dedicated to making sure that students understand and appreciate the traditions and principles on which our nation is based.
During the past summer, Hammons and Dr. Tony Joseph, professor of Early American History, led a group of eight students to the Colonial Triangle in Virginia. The area is central to the American story. "Jamestown is where the American story really starts. This was the first successful English colony in North America," said Dr. Joseph.
Students were able to walk through the historic Jamestown fort in the footsteps of John Smith and Pocahontas. The group ended the day with a boat ride up the James River. "It was a special moment for me as we traveled the river and saw where the settlers chose to plant their colony," said David Stripling, a senior History major. "I could put myself in their shoes and gaze upon the same ground they did as we traveled the waters they did. It was a moment I will never forget."
Hammons and his group spent a few days in Colonial Williamsburg, a reproduction of the colonial capital of Virginia. The students interacted with historical reenactors, served as the Governor's Council in a fictional, 18th-century trial, and fired black powder muskets at a rifle range (with supervision from licensed instructors). The shooting exercise was a favorite of many students. "I am a military veteran and it was a thrilling experience to fire weapons used in the Revolutionary War to win our country's freedom," said Michael Alexander, a senior Government major. "The experience drew me closer to the American ideals of individualism and liberty. The musket is a symbol of the American spirit."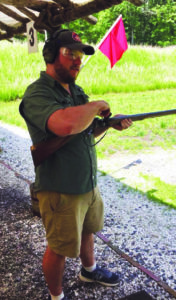 The educational expedition concluded with a trip to Yorktown to explore the battlefield and town where the American Revolution ended. Students were able to see the famous fortification stormed by the Marquis de Lafayette and Alexander Hamilton, walk through the village of Yorktown, and touch cannonballs imbedded in the house used by General Cornwallis as his headquarters.
Hammons stressed that American Heritage trips are a means to appeal to a generation that looks beyond textbooks for their education. "This trip helped me understand our nation's principles by exposing me to the stories of the people that came to colonial America," said Karen Lizama, a senior Government major. "Most of them were looking for a fresh start and freedom. We're a nation of self-starters." Legal Studies senior Gabriela Barros echoed those sentiments. "I was left with a realization that the United States was created by people just like me," said Barros. "And now it's up to me to carry on what they started."