Ruben Gonzalez, '88 remembers several key moments that set his life on its course. One of those was at Houston Baptist University. Gonzalez had entered in the fall of 1980 after graduating from nearby Dulles High School. HBU's main appeal back then for Gonzalez was that he could play on the soccer team.
"I was raised Catholic but I was kind of a rebellious kid," he said. "I never wanted to go to church and did not have a personal faith. One day, while sitting in the HBU student center, a student who knew I was a science major asked me what I knew about the Second Law of Thermodynamics."
As a pre-med major, Gonzalez was eager to show his knowledge. He shared that things in the world generally move from order to disorder. Your bed doesn't make itself. The friend then challenged him with the query: how could evolution, then, have created order?
"He floored me," Gonzalez remembers. "He said, 'Why don't you read these Scriptures and we'll talk next week.' He didn't shove Christianity down my throat; he just created a relationship. Later on, I got saved. I still have my first Bible, and in it, is my re-birthday: February 5, 1982."
On the soccer team, Gonzalez had a hard time standing out athletically, but he still showed he had as much heart as anyone on the team. He had flyers made and put them up around the school, inviting fellow students to come to the games.
In February 1984, Gonzalez was reminded of a childhood dream he had – to go to the Olympics. He watched footage of the Sarajevo Winter Games and saw American Scott Hamilton take the gold medal in men's singles figure skating.
"I thought, 'If he can do it, then I can do it.' I was only good enough to be a soccer bench warmer, but I believed. That's the power of belief," Gonzalez said. "I went to the HBU library, and first, I looked up the summer sports. It took me five minutes to realize I would have to be a super athlete to do that. My nickname in high school was 'Bulldog' because I was very tenacious. I thought, 'I have to find a sport that's so tough, a sport with so many broken bones, that there will be a lot of quitters. Only I won't quit.'"
Gonzalez turned to winter sports and narrowed it down to three he could envision himself doing: the ski jump, bobsled and the luge. Ski jumping would be suicide, he thought, and bobsledding required three other people. That left the sport of luge, which he could compete in by himself.
From there, Gonzalez wrote Sports Illustrated a letter asking how a person went about learning how to luge. The magazine wrote back with information about a training center in Lake Placid, New York. Gonzalez immediately called the center and talked with a man who wasn't eager to chat with Gonzalez at first. Most luge Olympians started practicing by age 10, he said. At 21, Gonzalez was quite behind.
"I kept him on the phone; hanging up wasn't an option," Gonzalez said. "I knew if I hung up the phone, it was all over. I happened to tell him that I was born in Argentina."
Immediately, the tone of the conversation changed. Gonzalez learned that the luge sport was on the verge of being eliminated from Olympic competition because there weren't enough countries participating. If Gonzalez would participate on behalf of Argentina, he could train with the American team.
"The man said, 'Okay, before you come to Lake Placid, you need to know it's brutal, and nine out of 10 people quit.' When he said that, I thought, 'This is perfect. It works right into my plan!'" Gonzalez said.
After garnering a near-impossible "yes" from the training center, Gonzalez traveled to Lake Placid to fulfill his Olympic dream. He soon learned that he would have to compress 10 years of training into two.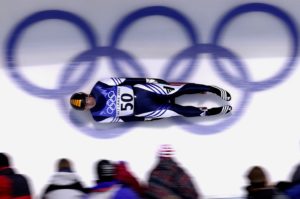 At first glance, the luge sport looks simple – lie back on a fiberglass sled and let the sleigh and gravity carry you. That's not exactly what it's like on an icy, three-quarter-mile track with 15 to 16 curves, going downhill at nearly 90 miles per hour. Subtle and timely steering of the sled and physical strength are imperative. Due to breakneck speeds, the sport is infamous for producing broken bones and myriad injuries.
"It takes a lot of time to learn how to luge – it's very counterintuitive," Gonzalez said. "Whatever you do that is normal will get you in trouble. The first couple of years, I was crashing four out of five times. By the end of the second year, I was crashing about one out of a hundred runs."
During training, Gonzalez broke a foot twice, along with a knee, elbow, hand and thumb. But he kept coming back to train. "My mindset going in was that a broken bone was just a temporary inconvenience. You have to put on your mental armor," he said. "Everything is hard in the beginning. You have to be perseverant. You have to stay in the game long enough to learn new skills. Then you use those skills to reach your dream."
Gonzalez split his time between New York and Houston, doing odd jobs to keep himself afloat while he trained. By his fourth year, Gonzalez cracked the world's top 50 and went to his first Olympic games in Calgary, Alberta in 1988. It was a special year for Gonzalez; he reached his hard-earned dream of being an Olympian and graduated with his college degree from HBU. He went back to training and made the Albertville, France Olympics in 1992.
In 1993, he married his wife, Cheryl; the two had met working at a restaurant in Houston. Gonzalez quit the sport for a while and focused on building a career. Preceding the 2002 games in Salt Lake City, Utah, his former coach called him. Not only did Gonzalez go back and train, but his brother, Marcelo, went too. They both competed in the Olympics.
A simple invitation to speak at an elementary school became another transformative moment in Gonzalez's journey. After returning from the Salt Lake City games, he thought he was going to provide a simple show-and-tell-style description about the Olympics to students.
"The principal took me to the auditorium and told me I had 45 minutes to speak," Gonzalez remembers. "I said a prayer, 'God, what do I do now?' Then I told the story of how I became an Olympian and gave them some pointers to help them reach their goals and dreams. Afterward, the principal said, 'You're better than the people we pay. You have a gift.' I was selling copiers in downtown Houston. For the next three days, I thought about what he said. On the third day, I quit my job. I figured that if I could sell a copier, I could sell a Ruben too."
That launched a speaking and writing career for Gonzalez that took off. Leading up to the 2010 Vancouver games, the Olympic bug bit him again, and Gonzalez became the first winter Olympian to compete in four different decades. At age 47 in Vancouver, many people thought Gonzalez was a coach. "The Olympic village is just like college – everybody's in their early 20s," he said.
After a seven-year training break, at the age of 55, Gonzalez went back to Calgary to train in 2017. "I was sliding better than ever," he said. "Mentally, I'm stronger."
With Beijing 2022 in his sights, Gonzalez is pushing himself to be the first winter Olympian to compete over the course of five decades. If he makes it, he will be 59 – the eldest winter Olympian ever.
Gonzalez's relentless drive has motivated many. He has spoken in more than 100 Fortune 500 companies. His bestselling books have been translated into more than 10 languages; hundreds of thousands of copies have been sold around the world. Based in Colorado Springs, Colorado with his wife and two children, he continues to influence others.
"I always wanted my life to be an adventure. I always wanted to be an inspiration to others," Gonzalez said. "Success is only the silver medal; the gold medal is significance – when you help other people become successful. I tell my kids you have to figure out what your Olympics is. Just win the gold medal in whatever it is."