HCU has always recognized that our students have talents that go far beyond the knowledge and skills of the classroom.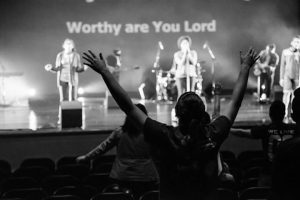 There are many clubs and organizations that are prime examples of students using their talents and abilities in ways that benefit the campus, the community, and glorify God. A powerful expression of HCU's desire creatively harness the talents and abilities of our students is Refuge and Focus. These two worship bands are an amazing blending of students who have several things in common. First they all have a deep love for Jesus, second every member of each band is extremely gifted musically, and third almost none of the band members are music majors. Refuge and Focus are integral parts of the community at HCU. Refuge is the official worship band for Convocation and can be found sharing their talents on the stage before the student body most Wednesday mornings. In addition to Convocation Refuge hosts Voyage night of Worship once a month. This is an opportunity for the student body to come together on a Thursday evening, and spend time worshiping in the midst of a busy schedule.  Focus is the official band for BSM. Refuge was also asked last spring to be the band for Abide, the Baptist General Convention of Texas Collegiate Prayer conference. Focus plays for the Thursday night BSM Voyage gatherings. Focus is also the band HCU schedules for outside events like Disciple Now's or for local churches. Refuge and Focus are both student led and student directed. Near the end of the spring semester auditions are posted for anyone who desired to become a part of the band and through the audition process the band selects new members for both Refuge and Focus. HCU is blessed to have these two groups of highly talented students who share their gifts with their peers.
This post was written by Nathan Mahand, HCU's Baptist Student Ministry Director.