The Opal Goolsby Award
The Opal Goolsby Outstanding Teaching Award is a traditional recognition of our very best teaching on the HCU campus. Some of the best judges of great teaching are our students. Our Student Government Association conducts nominations each Spring for faculty representatives from each of our colleges and schools. A selection committee with representatives from Student Government Association, the faculty Professional Development Committee and the Provost's Office examine the record of accomplishment for each nominee and carefully select the faculty member who best represents the ideals of outstanding teaching. We're proud to shine the spotlight on these wonderful examples of wisdom and inspiration on the HCU campus.
Professor Opal Goolsby
Opal Goolsby was a legendary faculty member at Houston Baptist College. She was a member of the original faculty in 1963 and taught English and French. With her husband, Bill, Opal had experienced a global life in a day when the presence of a woman in some sections of the globe had to be justified. She told of wonderful Middle East events where her presence at an oil contract signing with her husband in the desert, under a tent, on a Persian carpet was permitted because she had been named the guest of honor by the Sheik. She learned French at the Sorbonne when she became separated from her husband for more than a year in the political strife in Europe in the late thirties. She was a quick study and taught French the rest of her life. She was a generous, selfless teacher, who loved life and demanded the best of her students while endlessly offering them her encouragement and assistance.
2020 Opal Goolsby Outstanding Teaching Award Winner: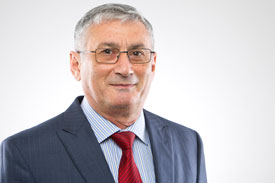 Dr. Levon Hayrapetyan, PhD
Professor of Business, Archie W. Dunham College of Business
Dr. Levon Hayrapetyan, Professor of Business, started teaching at HCU after moving from Armenia in 1999. Dr. Hayrapetyan created a unique blend of American and European teaching methods and styles, which has enabled him to identify students' strengths and arrange their learning around those strengths.  His excellence in teaching and innovation has earned him multiple local, regional and international awards.  Among them is The Teaching Excellence International Award given by ACBSP – a competition that included 253 business schools and programs from around the globe. In 2020, Dr. Hayrapetyan became HCU Piper Professor and a recipient of the Minnie Stevens Piper Foundation Piper Professor Award.
Dr. Hayrapetyan earned his BS and MS in Applied Mathematics from Yerevan State University, Armenia, and a PhD in Applied Mathematics from Kiev State University, Ukraine.
2019 Opal Goolsby Outstanding Teaching Award Winner: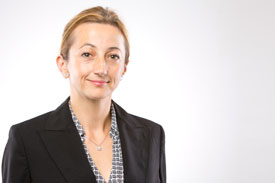 Dr. Agnieszka Czopik, PhD
Assistant Professor of Biology, College of Science and Engineering
Agnieszka uses research, case studies, and group projects to teach students about immunology, neuroscience, and general biological concepts. She provides hands-on, practical applications for her students to not only learn those concepts but to also refine their critical thinking, speaking, and writing skills.
Agnieszka is an innovative teacher that is able to draw even the most reserved students into active discussions in the classroom.
Dr. Czopik has the ability to challenge the students by introducing difficult subjects and large amounts of material, but presenting it in such a way that the students are engaged, take it all in, and understand it thoroughly. She sets high expectations for her students and they consistently rise to the occasion because of her enthusiasm and support. Dr. Czopik is passionate about every aspect of science and this is reflected in her teaching.
"Dr. Czopik went above and beyond to related the subject matter to new and exciting breakthrough research in the field. It was clear that she is extremely passionate about immunology and cared about what she taught us. Her excitement towards the subject made the students more engaged and made class an enjoyable experience."                  – Previous Immunology Student
"She is one of a kind. I truly appreciate her passion that she brings to class everyday."  – Previous Immunology Student
2018 Opal Goolsby Outstanding Teaching Award Winner: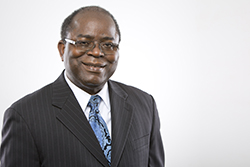 Dr. Felisi Sorgwe, PhD
Assistant Professor of Theology, School of Christian Thought
Dr. Sorgwe joined the HCU faculty in 2006.  He earned his PhD in Religion degree, with a minor in the Biblical Languages, from Baylor University, after having obtained his Master of Divinity and Master of Arts in Religious Education degrees from Southwestern Baptist Theological Seminary. At Southwestern he won the H.C. Brown Preaching Award in 1981. He is the faculty sponsor of Theta Alpha Kappa, the honor society for religious studies and theology, as well as the African Student Association. He is a regular speaker at Thursday convocations.  He considers himself blessed to be combining the complementary roles of theology professor and pastor as he gladly exercises his spiritual gifts of preaching and teaching.  Before winning the Opal Goolsby Award this year, Dr. Sorgwe was a nominee (finalist) in 2007, 2010, and 2015.
2017 Opal Goolsby Outstanding Teaching Award Winner: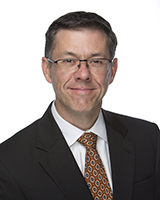 Dr. Christopher Hammons, PhD
Professor of Government, School of Humanities
Dr. Christopher Hammons is the Director of the Morris Family Center for Law & Liberty and a professor of Government at Houston Christian University.  He teaches courses in constitutional history, political thought, and presidential politics.
Dr. Hammons received a B.A. in Government and History at the University of Texas at Austin in 1991 and an M.A. and Ph.D. in Political Science at the University of Houston in 1997.
He has published articles in the American Political Science Review, the Albany Law Review, The Journal of Law & Public Policy, Education Next, the Houston Business Journal, The Federalist website, and the Houston Chronicle.  His book, Constitutionalism of the American States, was nominated by the American Political Science Association for best book in history and politics.   He released Origins of Our Founding Principles, a collection of faculty essays on the American founding, in 2020.
Dr. Hammons is the recipient of several teaching awards and is a sought after speaker on the American founding.
2016 Opal Goolsby Outstanding Teaching Award Winner: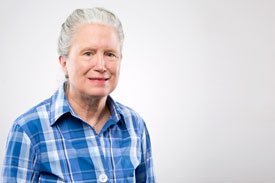 Dr. Treacy Woods, PhD
Professor of Chemistry, College of Science and Mathematics
Chair, Department of Chemistry
Dr. Woods completed her thirty-third year of teaching at HCU in May 2016.  She earned B. S. degrees in chemistry and in mathematics from Mankato State University in her native Minnesota and a PhD in chemistry from Rice University.  She mainly teaches the organic chemistry lecture and laboratory courses now, but has also taught general chemistry and advanced organic chemistry.  She has been part of faculty teams for interdisciplinary classes at HCU in various topics such as the future, bioethics, and the principles of research for scientists.  During her time at HCU, she had a sabbatical year teaching at the University of Minnesota and also taught organic chemistry at Rice for one semester.   She was named Outstanding Academic Advisor at HCU in 1995 and in 2002.  Dr. Woods was previously honored with the Opal Goolsby Award in 1996.
2015 Opal Goolsby Outstanding Teaching Award Winner: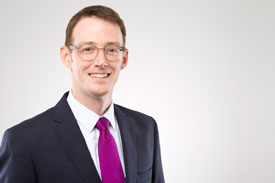 Dr. Colin Garbarino
Assistant Professor of History
Department of History and Great Texts, School of Humanities
Dr. Garbarino's "Augustine, Donatists, and Martyrdom" appears in An Age of Saints? Power, Conflict and Dissent in Early Medieval Christianity, edited by P. Booth, M. J. Dal Santo and P. Sarris (Leiden: Brill, 2011). He has written for a number of popular publications, including Touchstone, First Things, and The Federalist.
Dr. Garbarino writes about himself, "I grew up in Louisiana, where the best food in the world can be found (although Thailand ranks a close second). I met my wife at LA Tech, we've been married for 15 years (sic), and we have four young children. Though we now live in Houston, we still consider ourselves Louisianans. Living in Texas is a lot like being in captivity in Egypt—there's work to do and the government is rich. Though we're living in exile now, we make frequent trips across the Sabine River, our River Jordan, to the promised land, a land flowing with gumbo and boudin."
2014 Opal Goolsby Outstanding Teaching Award Winner: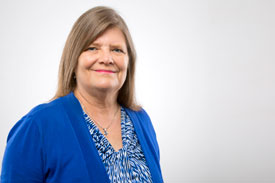 Dr. Jackie Peltier Horn
Chair, Department of Biology
Professor of Biology, School of Science and Mathematics
Dr. Horn has been awarded HCU's Opal Goolsby Award for exemplary teaching for the second time. Horn, who joined the HCU faculty in 1987, views learning as a partnership: "I share this award with my students who have helped me become a better teacher.  Learning is a collaborative effort, and it is a joy to share my gifts and experiences with them.  My treasures abound, filled with memories of students who grow and flourish into wonderful people who make a difference in many lives," she said. Horn received the Goolsby Award for the first time in 1999.
2013 Opal Goolsby Outstanding Teaching Award Winner: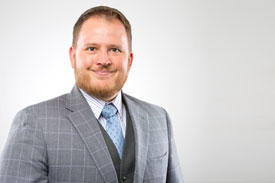 Dr. David Davis
Director of the Master of Liberal Arts Assistant Professor in History, School of Humanities
Dr. Davis completed his third year of teaching at HCU in May 2013. He earned his PhD in History from the University of Exeter, where he completed research on the English Reformation and the early printing trade. Dr. Davis has been teaching undergraduate courses in Western Civilization and European history as well as graduate courses in the MLA during his time at HCU.
2012 Opal Goolsby Outstanding Teaching Award Winner: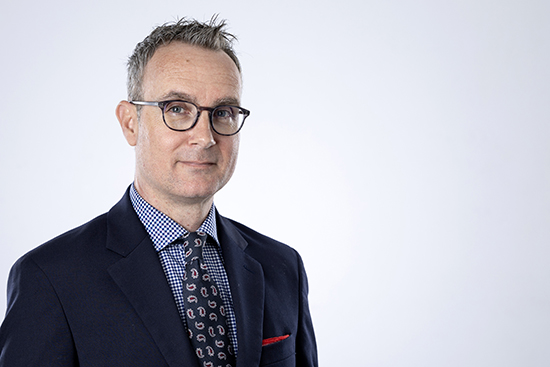 J. Daryl Hinze, JD
Assistant Professor in Business, School of Business
Professor J. Daryl Hinze completed his third year of teaching at HCU in May 2012.  He demonstrates an original teaching style combined with examples of real-life experiences in his Business Law, Business Ethics, Legal Environment of Business and Tax Procedure courses.  He was recently recognized as the HCU Outstanding Advisor of the Year and Piper Nominee from the School of Business.  Professor Hinze earned a Bachelor of Arts and Master of Arts in Philosophical Theology from Criswell College and a Doctor of Jurisprudence from the University of Houston Law Center.
2011 Opal Goolsby Outstanding Teaching Award Winner:
Nicole Pinaire, PhD
Assistant Professor in Biology, College of Science and Mathematics
Dr. Pinaire has just completed her second year in the College of Science and Math. She has earned her B.S. in Biomedical Engineering from Saint Louis University and her Ph.D. in Molecular Biology and Cancer Biology from The University of Texas Graduate School of Biomedical Sciences at Houston. Her teaching focus is on general biology including botany, animal systems and anatomy and physiology. Dr. Pinaire has been teaching general biology and anatomy/physiology courses during her time here at HCU. She is a dynamic instructor and very successful with engaging students in complex material and rigorous study.
2010 Opal Goolsby Outstanding Teaching Award Winner: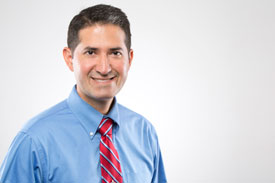 Saul Trevino, PhD
Assistant Professor in Chemistry, College of Science and Mathematics
Dr. Trevino completed his second year of teaching at HCU in May 2010. Prior to coming to HCU, he spent a year teaching at Blinn College. Dr. Trevino earned a B.S. in Biochemistry from Texas A&M University and a Ph.D. in Medical Sciences with an emphasis in protein chemistry from the Texas A&M University System Health Science Center. He is very active with the chemistry students here at HCU as sponsor of the Lion's Club and the Dead Chemists Society.
Past Opal Goolsby Recipients
2009
Dr. Ron Homann
Dr. Melissa Wiseman
2008
Dr. Miguel Estrada
Dr. Valerie Bussell
2007
Dr. David Adcock
Alexis Knapp
2006
Dr. Chris Salinas
Dr. Martha Maddox
2005
Dr. David Capes
Deb Berry
2004
Dr. Robert Towery
Dr. Ruth Ann Williamson
2003
Dr. Christopher Hammons
Dr. Melissa Wiseman
2002
Dr. Randy Wilson
Dr. Brenda Whaley
2001
Dr. Joe Blair
Dr. Constantina Michalos
2000
Dr. Randy Hatchett
Dr. Susan Cook
1999
Dr. James Taylor
Dr. Jacqueline Horn
1998
Dr. Avin Brownlee
Dr. Ann Owen
1997
Dr. Ernie Pyle
Dr. Linda Roff (Brupbacher)
1996
Dr. David Capes
Dr. Treacy Woods
1995
Dr. James Ulmer
Dr. Rhonda Furr
1994
Dr. Curtis Freeman
Dr. Beth Boyce
1993
Rex Fleming
Alice Rowlands
1992
Dr. Louis Markos
Patricia Dominguez
1991
Dr. Daton Dodson
Dr. Sally Phillips
1990
Dr. John Alexander
Ruth Stritmatter
1989
Dr. James Taylor
Dr. Brooke Tucker
1988
Dr. Avin Brownlee
Dr. Phyllis Nimmons
1987
Bob Marley
Dr. Marion Webb
1986
Dr. Paul Leath
Dr. Brooke Tucker
1985
Dr. Robert Creech
Dr. Patricia Pando
1984
Dr. Stephen Wentland
Dr. Elysee Peavy
1983
Dr. James Tsao
Dr. Marilyn Colvin
1982
Dr. Avin Brownlee
Dr. Marion Webb
1981
Dr. Paul Leath, Dr. A.O. Collins
Ruth Stritmatter
1980
Dr. Rick Denham
Dr. Brooke Tucker, Dr. Joyce Fan
1979
Dr. James Tsao, Dr. Stephen Wentland
Susan Wilson
1978
Dr. Avin Brownlee
Dr. Gerda Smith, Dr. Elysee Peavy
1977
Dr. James Taylor
Monteen Maczali, Dr. Cynthia Rogers
1976
Dr. Newell Boyd
Mrs. Cheryl Simmons, Opal Goolsby
1975
Dr. Rick Denham
Dr. Elysee Peavy, Grace Johnson
1974
Dr. Steve Donohue
Marion Webb, Dr. Marilyn Sibley
1973
Dr. Daton Dodson
Dr. Phyllis Nimmons, Dr. Cynthia Rogers
1972
Dr. A.O. Collins, Dr. Don Byrnes, Dr. Steve Donohue
1971
Marianne Miller, Dr. Elysee Peavy, Dr. Marilyn Sibley