Science and Engineering Advisory Board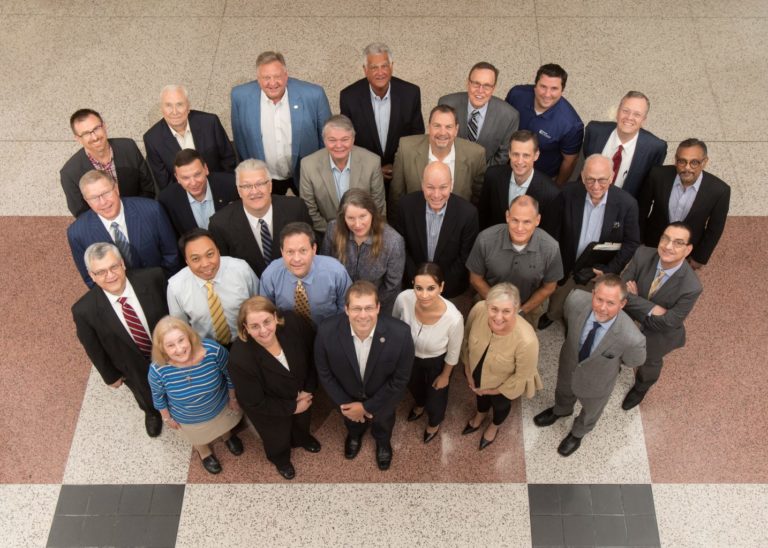 HCU's Science and Engineering Advisory Board began as the Engineering Advisory Board. The group's initial focus, beginning in May 2015, was to study the possibility of establishing a College of Engineering at HCU. The Board, comprised of industry experts, conducted a literature review, analyzed labor market data, and collected information from industry partners to determine areas of possible growth. Based on this information, the focus of the Board quickly centered on creating a degree program in Cyber Engineering as a first step in building programs under a College of Engineering. The Cyber Engineering program is unique to this region and results in the production of highly sought-after graduates in this emerging, professional field.
Dennis Adams, PhD
President
Adams Consulting
Baycliff, TX
John Alawneh
Chief Information Officer
Katy Independent School District
Katy, TX
Jill Almaguer
Sr. Project Manager, ISD Project Management Office
Memorial Hermann Healthcare System
Houston, TX
Chris Archinal
Regional Sales Manager
Exabeam
Houston, TX
Barry Beckett
Director, Info Systems Security Division
Houston Methodist
Houston, TX
Paul Berryman
Security and Compliance Officer
Andrews Kurth Kenyon LLP
Houston, TX
John Butler
Former Chairman
The GeoQuest, Butler Companies
Houston, TX
Terry Cargill
Vice President, Giving Strategies
Waterstone
Colorado Springs, CO
Jesse Carillo
Senior Vice President, CIO
Hines
Houston, TX
Kassandra Chandler
CIO, Program Manager, Consultant
Systematic Design Consultants
Richmond, TX
Donna Chang
CEO
Hope Biosciences
Sugar Land, TX
Herve Chapellat
Chief Operation Officer
Tech Cess Cyber Security Group
Houston, TX
Mario Chiock
Senior Cybersecurity Fellow
Schlumberger
Houston, TX
Bruce Crager
Executive Vice President
Endeavor Management
Houston, TX
George Crawford
Information Services Partner
The Catapult Group
Houston, TX
Matt Daniel
Senior Vice President
Skanska USA Building Inc.
Houston, TX
Tony DiCamillo
General Manager
ETix
Houston, TX
Michael Dumas
Chairman
Carbon Neutral Energy
Houston, TX
David Fray
Professor, School of Dentistry
UT Health Science Center
Houston, TX
Patricia Frost
Major General, U.S. Army, Retired
Director of Cyber
Partners in Performance America
Washington D.C.
Carl D. Garrison
Founder, CEO
Superior IS
Sugar Land, TX
Carl Glaw
Founder, Managing Partner
GLO CPAs, LLLP
Houston, TX
Linda Glaw
Firm Administrator
GLO CPAs, LLLP
Houston, TX
Edgar Gonzalez
Associate
Patterson + Sheridan LLP
Houston, TX
Richard Gray
Software Manager
Virtual Solutions
Houston, TX
Zadok Hakim
Chairman of the Board
TriEnergy
Houston, TX
Dorothy Haraminac
Partner
GreenVets, LLC
Houston, TX
Ron Harrell
Chairman Emeritus
Ryder Scott
Houston, TX
Stephen and Jan Hollingshead
CEO
ChangeInEx Inc.
Pearland, TX
G S Narayan Iyer
Security Architect
BMC
Houston, TX
Gene Janiszewski
Chief Executive Officer
Paradigm Group
Katy, TX
Mike Johnson
Founder, President
Ascending Leaders
Sugar Land, TX
Kent Knudsen
Supervisor of Information Security
Plains All American Pipeline
Houston, TX
Michael Krogstad
Information Security Manager
FROSCH
Houston, TX
Dick Kuriger
President
RCK, Inc., State of Texas Life Insurance Organization
Houston, TX

Patrick Lewis
President
Houston Angel Network
Houston, TX
Kam Lulla, PhD
Senior Scientist
NASA Johnson Space Center
Houston, TX
Hadassa Lutz
Houston Manager
Cybraics
Houston, TX
Annessa O. McKenzie
VP of IT, Chief Security Officer
Calpine Corporation
Houston, TX
Darrin Moore
Manager, Information Services
UT MD Anderson Cancer Center
Houston, TX
Randle Moore
Chief Strategy Officer
Fulcrum Technology Solutions
Houston, TX
Peter H. Moser Jr.
Chief Technologist, IoT and AI Strategist
Hewlett Packard Enterprise
Houston, TX
Dana Myers
Chief Operating Officer
Velocity Bioscience
Houston, TX
Mel Nevarez
Manager, Cyber Security
CenterPoint Energy, Inc.
Houston, TX
Randal Ogrydziak
Director of Security, Facilities and Regulatory Compliance
Port of Beaumont
Beaumont, Texas
Scott Perry
Chief Technology Director
InduMar Products, Inc.
Houston, TX
Alex Philips
Chief Information Officer
National Oilwell Varco
Houston, TX
John Powell
President
IT Works
Houston, TX
Issam Raad
President
Health Outreach to the Middle East
Missouri City, TX
Brad R. Rable
Chief Information Officer
Stewart Information Services
Houston, TX
Antonie Rice
Assistant Dean
National School of Tropical Medicine, Baylor
Houston, TX
Oscar Ruiz
Senior Research Scientist
UT MD Anderson Cancer Center
Houston, TX
Nansen Saleri
President, CEO, Co-Founder
Quantum Reservoir Impact
Houston, TX
Humberto Sirvent
CEO, Managing Partner
ARB Energy Investments
Houston, TX
Eric Smithmier
Special Agent
FBI Cyber Crime Task Force
Houston, TX
John Spiers
Founder & Principal
Spiers Group
Houston, TX
Bob Sternenberg
Owner
Sternenberg Consulting
Houston, TX
Michael Swain
Senior Sales Executive
Intel
Houston, TX
Johnny Taylor
CEO, Chairman
Mobile Encryption Technology
Houston, TX
James F. Thompson
President & CEO
NARICA Energy & Infrastructure LLC
Umesh Verma
CEO, Blue Lance
Chair, Cyber Houston
Houston, TX
Lumay Viloria-Gomez
Petroleum Engineer, SWE Advisor
Schlumberger
Houston, TX
Jeff Vinson
Chief Information Security Officer
Harris Health System
Houston, TX
Roberto Vitale
Business Director
Excelsys Global Consulting LLC
Sugar Land, TX
Glenn Wallin
Corporate Sales Manager
Nordstar Group
Houston, TX
Sarah Ward
Sales Executive, US Operations
Technics
Houston, TX
Bob Wells
Partner
B2B CFO
Houston, TX
Thomas Wheeler
Chief of Pathology and Laboratory Medicine
Baylor College of Medicine
Houston, TX
Ellis Wyms
Founder
Athletes for Computer Science
Spring, TX
Randy Yates
Information Security Officer
Memorial Hermann
Houston, TX