BA Criminal Justice Degree

Criminal Justice Major at HCU
The Criminal Justice degree at HCU is designed to help students develop a basic understanding of crime, law enforcement, adjudication and corrections in society. These skills are valuable in a variety of careers that span the field of criminal justice. Students who study criminal justice typically also express interest in legal studies or psychology and a possess a desire to pursue justice and truth.
The Criminal Justice degree at HCU is comprised of a total of 30 credit hours. Students study a range of information about the criminal justice system, including the history of constitutional law and the American court system, legal communications, and criminology. Students also spend time discussing ethics and crime in relation to criminal justice and the American family, ensuring they have not only a well-rounded historical understanding of our nation's criminal justice system, but the balanced approach necessary for upholding truth and justice in future decision-making processes.
Because of the size of the degree, students may also choose to double major, combining Criminal Justice with Psychology or Spanish. Students may also consider a minor in Sociology or participation in HCU's Mock Trial team which helps students practice oral argument by competing in regional contests. The online Criminal Justice degree provides the same education for criminology and the criminal justice system.
View Major Degree Plan
View Minor Degree Plan
Criminal Justice and the Ten Pillars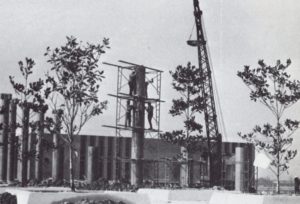 HCU's 10  Pillars symbolize the Ten Commandments and as such they call to mind the virtues of truth and justice – the basic tenants undergirding HCU's Criminal Justice degree. The pillars originated from the 16 columns which previously guarded the entrances to the Galveston County Courthouse erected in 1899. Behind these same pillars many, including William Charles Morris,  found refuge during the Great Storm of 1900. The columns were donated to the University by Joella and Dr. Stewart Morris, Sr., with the hope that, "Their beauty, magnitude, and simplicity remind us of the ageless message of the Word of God, the Bible."
Testimonials from Community Leaders