Pre-Law Society
The main goal of the Pre-Law Society is to help HCU students get into law school! We hold a mutual desire to learn and share the history of our legal customs and traditions and different viewpoints on public policy, and we strive to uphold our core principle of "Fiat Justitia Ruat Caelum" ("Let justice be done though the heavens fall"). As an organization, we work to provide information, advice, and opportunities for members to succeed in the law school application and admissions process and in law school and beyond.
The Pre-Law Society hosts speaker events, either monthly or bi-monthly, featuring law school admissions representatives, legal professionals including lawyers and judges, and current students and alumni. These speakers cover a wide range of topics, including the law school application and admissions process, LSAT advice, and their law school and/or professional experience and advice. We also hold member meetings where students can discuss the process of law school admissions, classes, and other topics related to law school and legal professions.
We are open to all students and alumni of the university who maintain a 2.0 GPA. Active members must attend at least half of the monthly events/meetings per year.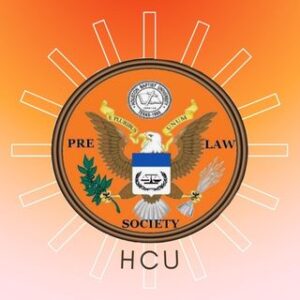 Follow us on SOCIAL MEDIA