On Friday afternoons, a group of students make their way across campus to the Bradshaw Fitness Center Gym for two hours of pick-up basketball from 4 p.m. to 6 p.m. Each of them look forward to the competition and camaraderie that closes out the school week.
Husky Hoops, as it is known, was started by Luke Humphreys, an HBU First-Year Success Coach, in 2017. Humphreys and a former co-worker, Michael Giro, talked about incorporating their love of the Bible with their passion for basketball. They realized many students relished basketball too – whether they played for years or just liked the game. Together, the HBU employees began the weekly pick-up game program for male and female students and Bradshaw members as a partnership between HBU Spiritual Life's Kaleo and Student Success. The creative outlet for discipleship and mentorship began.
At first, there were only enough participants to play five-on-five with no substitutes. "I was out on the gym fitness floor recruiting," Humphreys said of the early days. Nearly two years later, players are plentiful.
Student Kameron Thomas is a regular. He appreciates the chance to play the game after being a combo guard in high school. "The gym is my habitat so (Husky Hoops) is just like therapy," he said. "I look forward to it. Also, it helps me get closer to God and build my faith."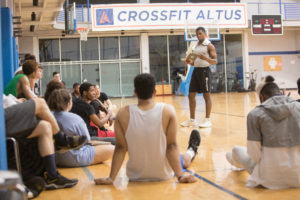 Each week, players huddle together at the start of Husky Hoops for prayer. Then the first 10 people to make a three-point shot commence the game. When Husky Hoops first began, Humphreys led a devotional at the end of the two-hour scrimmage. But he found that players were tired and some left. Now, he or one of the students he mentors leads a devotional at "halftime," one hour into play.
A.J. Richardson is one of the players and leaders. He led a devotional about the biblical story of Jonah on a recent Friday. "Basketball is my favorite sport. Being in Husky Hoops has taught me that Christ comes first in all things," Richardson said. "It's grown me a lot as a person."
Although faith isn't a requirement for participants, those who come find there is a high level of welcome and sportsmanship on the court. Cade Hill enjoys playing each week. "Having God in the center of all of it here – it leads to a community where there's not any bad blood," he said. "We just have fun playing."
Humphreys makes devotions applicable to real-life issues. "We talk about relationships, temptations, struggles, doubt, belief, despair – a lot of things that I feel college students face on a daily basis," he said. "We try to engage those issues head-on." Relationships and leadership development are a natural outgrowth of the program. "I've seen our leaders improve so much over the last two years," Humphreys said. "I could not be more proud of them."
The words of the Apostle Paul in I Corinthians 9:19-23 come to Humphreys' mind when he thinks about meeting students where they are: "I do all this for the sake of the gospel, that I may share in its blessings" (I Corinthians 9:23). "We all need Jesus. We want to incorporate truth into everyday life," he said. "We want to create a community where people belong and feel welcome."
Even Husky Hoops fans who come to watch are invited to be part of the group and the devotional. Richardson said, "God is for everyone and not just for a specific set of people – that's the main point of this whole ministry. Even people who won't come to a Bible study or church, they can come do something they love and get God with that. We're not church, but we're the steps in between that can open their hearts to God."