Husky decathlete is the program's first track athlete to reach the NCAA Championships
By Jeff Sutton
While Denim Rogers' path to HBU was anything but direct, the first-year Husky is set to be the University's first representative on the NCAA's biggest stage for the first time since the track and field program was restarted in 2008. And while he has high hopes for the NCAA Outdoor Championships, his aspirations extend beyond just the NCAA.
Rogers dropped out of high school as a freshman before completing high school online. As a result, he was a non-qualifier for the NCAA Division I, despite his aims, and made the decision to attend Garden City Community College in Garden City, Kansas, on an athletic scholarship.
As a freshman at Garden City CC, Rogers won the heptathlon at the NJCAA Region VI Indoor Championships, before placing sixth at the NJCAA Indoor Championships. Then, in the outdoor season, he took second place at the NJCAA regional meet and finished fifth in the decathlon at the NJCAA Outdoor Championships.
After his performance his freshman year, he felt he wasn't getting the attention from NCAA Division I coaches he was hoping for, so he began reaching out to coaches on his own, sending an estimated 300 emails to coaches.
"The people who really understood the multis actually called back and (HBU Associate Head Coach) Sesar Figueroa was one of them. The coaches brought me on a visit and I really liked the small campus and didn't think I would survive on a big campus. I really liked the feel here and the coaching staff was awesome," Rogers said. "Most of my family is in Texas and it's a lot warmer than Kansas. That was definitely a factor, especially if I was going to go to a school without an indoor facility, so I could train year-round."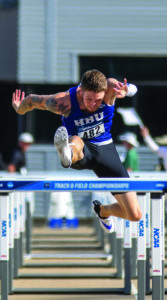 Rogers made the decision to commit to HBU and sign his National Letter of Intent in November of his second year at Garden City CC. Just a few months later, he returned to the NJCAA Indoor Championships and set a new meet record in the heptathlon with 5,465 points to earn the national championship. After that, Rogers began getting those calls he felt he should have been getting earlier. Much to the chagrin of those coaches, however, he was all set to become a Husky.
From the time he got on campus, the goals for the indoor and outdoor seasons were to qualify for the NCAA Championships. In indoor track and field, qualifying for the postseason in the heptathlon is limited to just 16 student-athletes who make it into the championship field. Rogers' best performance of the season came at the 2019 Southland Conference Indoor Championships, winning the event and standing atop the podium with a point total of 5,528. Despite the win, that total left him an agonizing two points and one spot shy of qualifying for nationals.
"I won conference and I was crying on the podium," said Rogers. "For me, that wasn't the end goal. To go from being number one in junior college and breaking a national record to not even making the national list, it was heartbreaking. It was a huge motivator heading into outdoor."
Rogers competed in his first decathlon of the outdoor season at the prestigious Texas Relays, and after a disappointing start threw him off mentally, he and the HBU coaches made the decision to skip the final event and instead run in the 110-meter hurdles invitational. Despite not performing the way he wanted and skipping the final event, Rogers still set a new PR in the decathlon and wound up with a personal record time in the 110-meter hurdles that qualified him for the NCAA West Preliminaries meet.
A few weeks later, Rogers traveled to Azusa, California, for the Bryan Clay Invitational, where he won his decathlon group of 18 competitors with a total of 7,504 points for a new program record. Out of 68 student-athletes at the meet, he finished fifth among collegians, and his score put him safely in line to qualify for nationals.
"We didn't do what we wanted at the Texas Relays, which made me push more; I knew I had to get a mark in California," Rogers added. "It was just, 'one more bar, one more height' every single time. It was all-out or nothing because I didn't have anything to lose. I didn't want to feel like that (indoor championships) again."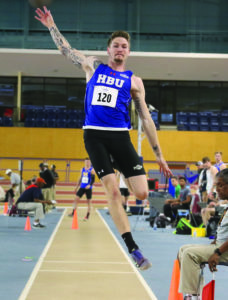 Head Coach Theresa Fuqua added, "Multi-events are kind of a roller coaster. You have to be able to handle highs and lows and being on in one event and not on in another, and being able to process that as part of the big picture. Denim got better at that as he went through the year and was able to stack his performances and have the right energy distribution throughout the event to really put something together late in the season, which is what he did at Bryan Clay."
Feeling secure about qualifying, the decision was made for Rogers not to compete in the decathlon at the Southland Conference Outdoor Championships, instead competing in multiple individual events in hopes of earning points in each of those events, instead of limiting it to just 10 potential points toward the team total from the decathlon. Teammate Scott Boon, a freshman from the Netherlands, set a new personal record of his own and placed second at the conference meet in the decathlon.
Rogers noted how he and Boon support one another and benefit from their relationship as teammates, adding, "Scott is good where I'm not as good and I'm good where he's not as strong. It's definitely good to have him in practice where I can give him some pointers on those events where I'm stronger and vice versa. We're coaching each other along with our coach, so that's great."
Heading into the NCAA Outdoor Championships, Rogers owns the 14th-best decathlon mark in the nation with the top 24 qualifying for the meet. While trying to temper his own expectations, he did concede that his goal was a top-eight finish at nationals.
"It's awesome," said Fuqua. "First and foremost, it's amazing for Denim, and therefore, also amazing for our program. It's a tribute, really, to his hard work. It was a tough pill to swallow in indoor when he was one spot away. For him to refocus and work hard during the outdoor season and put together a multi-event that ensured his entry into the NCAA meet is a testament to how hard he's worked."
Rogers has two more years of eligibility remaining in outdoor and one more left in indoor. When pressed about future goals, he was straightforward about his plans for next season: "Next year is an Olympic year. I want to make the Olympic Trials next year."
He plans to skip the indoor season next year in order to fully focus on decathlon training. While his current PR is that 7,504 mark, he will need to meet the automatic qualifying standard of 7,900 points in order to earn a spot at the 2020 US Olympic Trials. He remained pragmatic about his Olympic aspirations, noting, "I'm not so much looking to make the Olympics, but if it happens, it happens. I'm young for multis. So many guys are 25 and are internationals, and they can start training for the decathlon at 10, while in the US, you don't start until college. If not, I'll be there for 2024."
To see how Rogers fared at the 2019 NCAA Outdoor Championships, held June 5-8, visit HCUHuskies.com.