Texas Baptists, also known as the Baptist General Convention of Texas, represents diverse congregations across a vast state with the purpose of advancing God's Kingdom in Texas. The Texas Baptists' (the BGCT) vision statement includes the meaningful declaration: "We are on a mission with God to continue Jesus' ministry of teaching, sharing the good news and meeting human needs through our churches, institutions and organizations. Our ministries reflect the heart of Jesus."
Texas Baptists encompasses about 5,300 member church congregations in Texas. At colleges and universities, the convention is carrying out the great commission through Baptist Student Ministry programs. Of the BSM programs, there are 115 Texas schools with resident BSM staff members.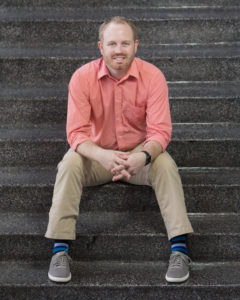 At HBU, Nathan Mahand fills the role of BSM director. "I am a campus missionary from the BGCT," he explained. "My job is to do collegiate ministry on our campus and surrounding campuses, including Bible studies, evangelism training, mission trips, leadership development and discipleship."
The HBU BSM works hand in hand with Kaleo, HBU's Spiritual Life discipleship program. "We are integrated and support one another," Mahand said. "We're very intentional with the way we do discipleship. We believe it's about how we relate to God, personal practices, faith community, and bearing witness in the world."
Partly because of HBU's location in a diverse, international city, there are many unreached students – even at a Christian school. Mahand is deliberate about shaping leaders and reaching students in ways that are consequential.
"During college, you're making decisions about who you're going to be for the rest of your life," he said. "I want to be part of that conversation, and have students be part of that discussion with other students."
In addition to weekly Bible studies and discipleship opportunities, Mahand facilitates mission opportunities through the Texas Baptists sending organization, Go Now Missions, and oversees HBU's two worship bands, Focus and Refuge.
Beyond HBU, Mahand also supports the BSM programs on college campuses in the area. "HBU is a hub – 19 out of 51 college campuses in Houston have Christian ministry on a regular basis," he said. "There are 300,000 college students in Texas." Rice University and the University of Houston are nearby BSM centers.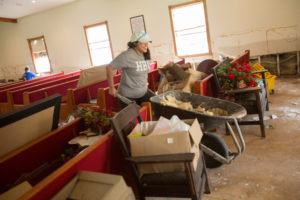 Mahand emphasizes that students involved in BSM do not need to be Baptist. "People follow Jesus in different manners," he said. "The diversity makes it fun and a challenge."
In support of the Christian stance of HBU and other Baptist educational institutions around the state, Texas Baptists makes regular financial contributions to help fulfill their purpose of glorifying Jesus Christ as Lord. About one-third of the organization's budget is allocated to support institutions and partners such as HBU. For 2019, the organization has allocated $282,000 to help HBU students obtain a faith-based education.
David Hardage, executive director of the Texas Baptists, said, "From the time the convention began, one of the primary reasons for it was education. Our people continue to believe in education and in providing a Christian foundation and a biblically based education for students from Texas and beyond. One of the newest areas of emphasis – and HBU is key in this – is the area of apologetics. We really want to teach and help our younger generation know how to contend for the faith."
The Texas mission field is truly vast, with a state population nearing 30 million. With shifting times, churches and ministry leaders must reach people in new ways.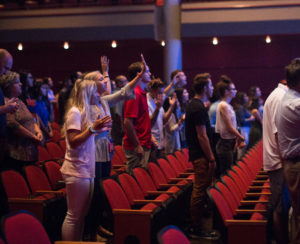 Hardage said, "The culture is more challenging than it's ever been. Society is changing. I'm in a different church every Sunday. As an example, not all, but many of them have the same mindset. It is, 'We need to reach the young families.' My response to that is, 'Yes, you do. I hope you reach every single one of them. And then when you do that, let's talk about the other 75 percent of the households of Texas.'"
Hardage sites statistics from a recent BGCT report which estimates approximately 25 percent of Texas households are unmarried people, 25 percent are empty-nesters, 25 percent are young families, and 25 percent are households of various compositions.
Churches and ministries, in many ways, no longer must travel in order to reach people of all cultures. Thousands of people have moved to Texas, bringing their cultures, religions and languages with them. Such factors make having a network like the Texas Baptists even more helpful.
In addition to assisting churches in reaching their local communities, the Texas Baptists supports evangelism, discipleship, missions, legislative advocacy, and offers counseling resources. In all the organization does, its purpose is summarized in its official missional stance: "Lives, families, communities and nations are transformed as ordinary Christians take extraordinary steps of faith in obedience to God."
Visit TexasBaptists.org.