HBU is pleased to announce a new scholarship opportunity for students, recognizing a pioneer of computer science and military service, Rear Admiral Grace M. Hopper, PhD, by establishing the Grace Hopper Scholarships. This fund is established through a generous gift from Mr. Holly Frost and Ms. Kathaleen Wall. Mr. Frost is an entrepreneur who created one of the earliest and most successful computer memory companies.
Through the gift of $500,000 per year for the next four years, HBU will be able to support up to 100 students annually in high-demand, STEM-related academic programs. Scholarship recipients will demonstrate Dr. Hopper's persistence, technical knowledge and selfless service as students in Computer Science, Cyber Engineering, Electrical Engineering, Chemistry, Mathematics or Physics at HBU. The goal of the scholarship is to support qualified students during the second and third years of their degree programs to enhance the probability of their graduation.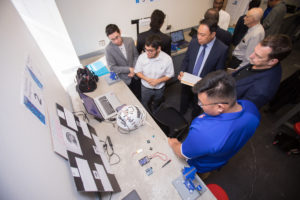 "Texas is expected to see dramatic growth in technology-based companies and career opportunities over the next five to 10 years. The only way to fill these opportunities, and to ensure Texas' position as a premier technology growth center within the US, is to encourage increased pursuit of science and engineering degrees. For Texas students to be competitive in the workforce, STEM programs at the college level are essential now more than ever," Kathaleen Wall said. "STEM-focused college programs establish an educational environment and scientific background for students to open doors to enhanced research and development opportunities in Texas. Women, traditionally underrepresented in these fields, are a natural focal point for this effort. Encouraging more women to pursue science and engineering careers will help Texas to develop a workforce of the future, while also offering women the benefits of the rewarding and high-paying jobs that are associated with these career paths. In an attempt to achieve this goal, we have chosen to establish a series of scholarships – named in honor of the legendary computing pioneer, Grace Hopper – to encourage increased participation of women in the fields of science and engineering. These scholarships will be available to female students, and all qualified applicants of HBU, who choose to pursue a technology-related degree. HBU truly exemplifies Texas excellence. It provides a well-rounded, high-quality education that attends to academic as well as spiritual learning, understanding and development. We truly hope that this effort can serve as the first step in positioning Texas for success in the future."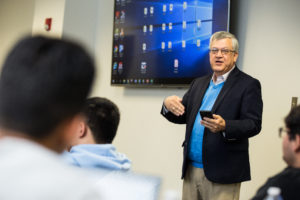 Dr. Stanley Napper, dean of the HBU College of Engineering, said, "The United States, and the Houston metro area in particular, needs more STEM graduates, especially in the high-demand areas of software development, cybersecurity, artificial intelligence, analytics and other topics whose foundation lies in computer science, engineering, science and mathematics. The need for a significantly larger 'digital workforce' has been acknowledged by the Greater Houston Partnership, the Cyber Houston Task Force, Houston Exponential, the mayor of Houston and many other organizations and individuals. We are grateful for this gift."
The HBU College of Engineering was established in 2017; classes began in the fall of 2018. The College is expected to grow to between 200 and 300 students within the first five years. The HBU College of Science and Mathematics has, for decades, offered outstanding programs which prepare graduates for professional or graduate study, and for employment in a variety of industries.