The Looper Learning Commons, named for the Doris and Terry Looper family, was dedicated in late 2016 in the Moody Library, and currently houses the majority of the team members in the Department of Student Success and Advising (Student Success). Since then, the space has become a hub for individual and group study, as well as a center for student support services.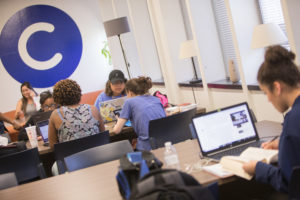 Utilizing funds from a federal grant and The Hamill Foundation, Student Success has recently added new technology and learning equipment in the learning commons. Similar equipment was also added to the study areas of the Women's Residence College, Men's Residence College, and the Collegium, which serves as the commuter student lounge.
The project was led by Kimberly Ramos, director of First-Year Success. "One of the common things we heard from our students was the need for more outlets. Hence, when we ordered the new pieces, we made sure the equipment had built-in plugs, electrical cords, and USB ports."
The active learning equipment includes café-height tables and chairs, standard tables and chairs, and single lounging stations that include soft benches with movable tables. Just in time for finals season, students were quick to utilize the new pieces when they were assembled and put in place in late April. "Day one, hour one, minute one – before the installation crew even cleaned and packed everything up – students were already moving in to use the new tables," Ramos said.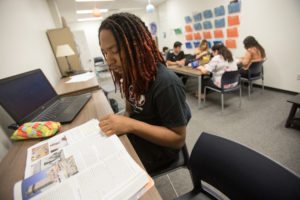 Senior Collin Harvey said of the new pieces in the Collegium, "There is more space to study and eat. A lot of people work on their laptop while they eat lunch, so having the tables with the plugs is really helpful."
Rachel Knight, a junior, said of the new equipment, "I love it. The USB ports make things a lot easier."
Dr. David Hao, dean of the Department of Student Success and Advising, said the reconfigurable furniture is ideal. "We are facilitating opportunities for student engagement and learning," he said. "We know that matters for student satisfaction and student success."