Professorship at HBU Honors Bisagno
Frank Minton, a former pastor, remembers meeting the man who would become his best friend, John Bisagno, in 1957. "It was when I played pro-ball with the Brooklyn Dodgers. We met in a café in Shawnee, Oklahoma," he said. Minton and his wife, Joyce, hit it off with Bisagno and his wife, Uldine. "The reason we became good friends is John said, 'I always wanted to be a baseball pitcher and you always wanted to be a Baptist preacher.'"
Only four months apart, the two men forged a close bond. The most memorable aspect of John's character was his love for Jesus Christ. Minton vividly recalls how Bisagno was once introduced when he spoke before the Rev. Billy Graham at an evangelistic conference for the Texas Baptists in Dallas. The speaker simply quoted John 1:6: "There was a man sent from God whose name was John."
While pastoring in Del City, Oklahoma, Bisagno was invited to pastor Houston's First Baptist Church. Bisagno talked over the idea with Minton. "I said, 'Whoever heard of Del City? But the world has heard of Houston. It's one of the fastest growing cities in the South. I believe it's of the Lord,'" Minton said of the opportunity.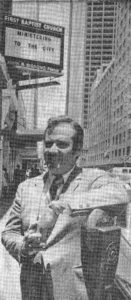 From 1970 through the next three decades, Bisagno faithfully pastored Houston's First Baptist, helping grow it from 400 to 22,000 members, according to a 1999 Baptist Press report. He also proudly guided the establishment of the church's new home, the Loop Campus. Throughout the years, Bisagno preferred to be known simply as "Brother John."
Although the jazz musician-turned pastor never graduated from seminary, he was a believer in Christian education and seminary instruction. He supported Houston Baptist University, serving on the HBU Board of Trustees from 1973-79, from 1988-94, and from 2007-10.
Jan Bennett and her husband, Don, became close friends of John and Uldine's. "When he taught, you needed your Bible, pen and a notepad, and it would help if you knew shorthand," Jan Bennett remembers. "He didn't compromise the Word. He was a humble man with a servant's heart. He always signed letters, 'The shepherd loves his sheep.'"
Especially toward the end of his life, Bisagno poured himself into preparing the next generation of pastors, teaching part-time and writing pieces directed toward developing ministerial leaders.
In his honor, the John Bisagno Distinguished Professorship in Christian Origins was established at HBU. Following Uldine and John's passing in 2017 and 2018, respectively, the Bisagno name is synonymous with fidelity to Scripture and love for people.
Dr. Craig Evans, a world-renowned scholar of the New Testament and an expert in the Bible's historical and archeological roots, currently holds the John Bisagno Distinguished Professorship in Christian Origins. The professorship supports Dr. Evans' teaching and research in the Houston Theological Seminary of Houston Baptist University. (Classes are offered on HBU's campus and at Second Baptist Church's Woodway and West campuses.)
The important professorship honors the faithful ministry of Brother John, develops young ministers, and promotes Christian scholarship and devotion to Scripture. Financially endowing the Bisagno Professorship helps support biblical instruction and the work of future ministers.
Gregg Matte, pastor of Houston's First Baptist Church and chair of the HBU Board of Trustees, said, "Houston Baptist University is a natural catalyst in this endeavor, with its firm commitment to the authority of Scripture and to educating students to become leaders in both career and community."
---
Giving Information
HBU Office of Advancement and University Relations
Tommy Bambrick, Director of Gift Planning and Stewardship
281.649.3407
TBambrick@HBU.edu