Credit by Examination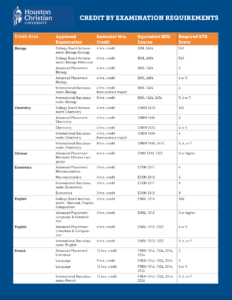 High school graduates with strong academic records who have completed college level work while in high school may receive course credit in appropriate fields of interest at HCU. To become eligible for this credit, an applicant must make a satisfactory score on the College Board Advanced Placement (AP) Examination, International Baccalaureate (IB) Examination, College Board Achievement (SAT Subject Test) Examination, or College Level Examination Program (CLEP) examination for the subject in which credit is desired.
Advanced Placement
Prospective students are encouraged to consult their high school counselors and arrange to take the AP examinations for which they are eligible in the spring before expected fall enrollment. These examinations are normally given once each year, usually in May. University credit is awarded for students scoring a 3, 4 or 5 on the examination for most subjects.
International Baccalaureate (IB)
HCU students who earn IB examination credit will receive credit for individual higher level examinations on which they receive a score of 5, 6, or 7. Students must submit an official International Baccalaureate transcript to earn credit.
College Level Examination Program (CLEP)
Please refer to the CLEP examination page on the testing website for the CLEP scores requirements for HCU credit. The CLEP exam is offered on campus. Please refer to the HCU Testing webpage for the next available test date.
DSST
DSST (formerly Dantes) is a credit by exam program that covers a wide range of courses. If a student's JST or military transcript does not cite the DSST score(s), a separate transcript from DSST/DANTES must be received by HBU.
Students may also receive credit by examination in French, German, or Spanish through the Modern Language Association Cooperative Foreign Language Examinations. Credit is given as follows:
Form MB: 80th Percentile and above — 12 hours of credit
Form MB: 65th Percentile and above — 6 hours of credit
Form LB: 80th Percentile and above — 6 hours of credit
Form LB: 50th Percentile and above — 3 hours of credit