Bibles with a Texas Connection

T.R. Fehrenbach in his Lone Star: A History of Texas and the Texans reflects on the Bible's influence in early Texas:

"The historical role of the English Bible in this Texas has increasingly been overlooked.  But the King James Version afforded this stultified civilization on the fringes of the 19th century Western world with a great part of the basic culture it required.  It gave the frontier farmer…a basic folklore, philosophy and literature. It was, in fact, almost the only literature most families possessed.
"The Old Testament fitted easily into the 19th century Texas world.  Its  revelations of the human condition were held, even by  the nonreligious, to be entirely valid and timelessly true.  The young Texas read of evil that was ancient and ever-present, requiring eternal discipline of man; he learned of false prophets and lying sycophants, of licentious Jezebels and foolish kings, of mighty warriors and wise men. He absorbed an unflattering impression of each intellectual  tribes as Scribes and Pharisees.  And although few could  articulate it or explain it, Texans gained a timeless portrait of man's world, of the rise and fall of people, of bondage and deliverance, of God's patience and wrath, and man's enduring inhumanity to man.  Visitors were often surprised to find Texans, who had no apparent civilization, able to strip vanities and euphoric philosophies from better educated men.  As a cultural, folkloric, instrument, the Holy Bible played its part, in a way no official history or intellectually fabricated  philosophy ever could."
The Self-Interpreting Bible, containing the Old and New Testaments, with References.  Bungay: Brightly and Childe, 1814.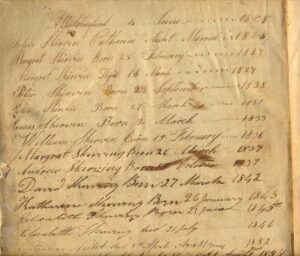 John Brown (1722-1787) was a Scottish weaver who became a Presbyterian minister.  Although self-educated, he prepared an annotated Bible, Bible dictionary and concordance, and a metrical version of the Psalms.  His self-interpreting Bible appeared first in 1778 in Edinburgh and was reprinted many times in both Scotland and America.   This Brown Self-Interpreting Bible was used aboard U.S.S.Texas, a battleship that was in operation from 1914-1948 and saw action in both World Wars I and II.  It was the first battleship to launch an aircraft and the first to mount anti-aircraft guns.  It is now preserved as a museum near the San Jacinto Monument. (B 48)
The New Testament of Our Lord and Saviour Jesus Christ.  American Bible Society, 1829.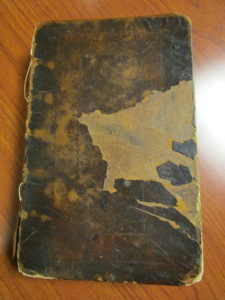 After the Battle of San Jacinto when there was freedom to preach the Gospel in Texas, Jesse Mercer, founder of Mercer University, paid the expenses of several missionaries to come preach the Gospel in Texas.  Among them were Jesse's nephew, Kindred Green Mercer, and his wife, Jane Wright.  They first settled in Victoria, then moved to Polk County and then Montgomery County, always preaching the Gospel.  This Bible came with the Mercers when they moved from Mississippi to Texas.  The Bible's water stains are still visible from when the wagon filled with water while crossing a creek on the journey. (B 06.05 Donated by Zular West, granddaughter of K.G. and Jane Mercer.)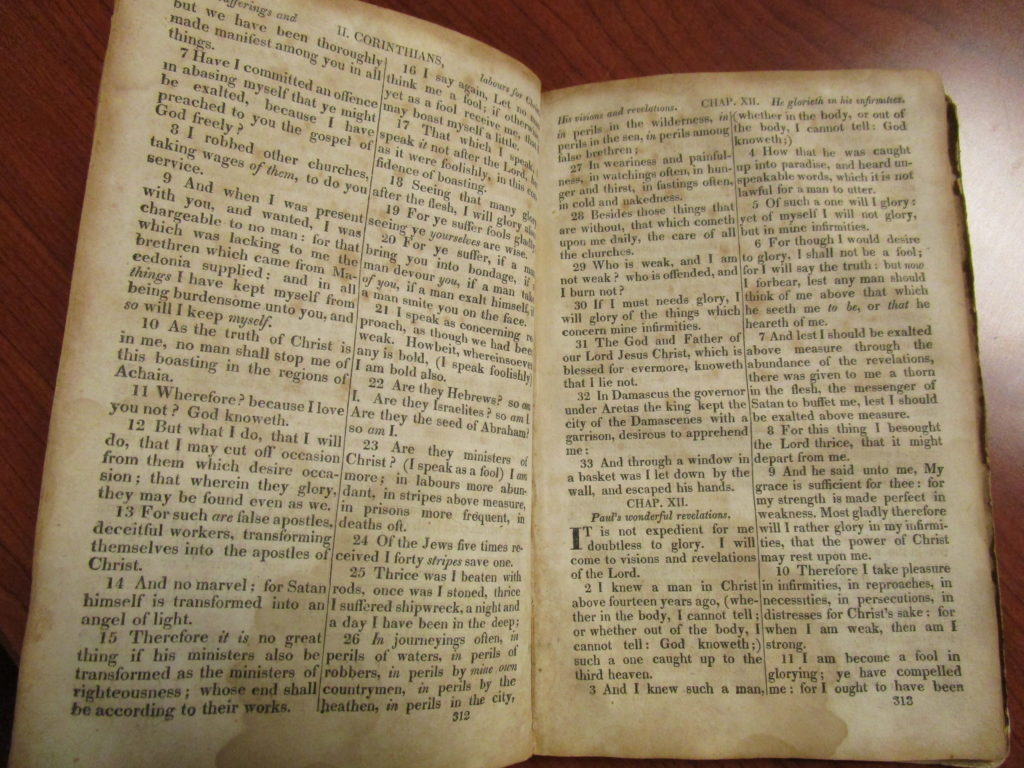 Colossians.  Birmingham, England, 1830 .
Miniature printing of St. Paul's Epistle to the Colossians.  Inside front cover, miniature bookplate of Stanley Marcus, the Texas-based department store mogul and a collector of miniature books. (09.1152 Donald Brake Collection)
Holy Bible, n.d.
This Bible belonged to Nathan Richardson Wilson (1824-1919) who came from Baltimore, Maryland to Houston in 1842 with his Father Peter Wilson. (Donated by Gordon and Diana Severance)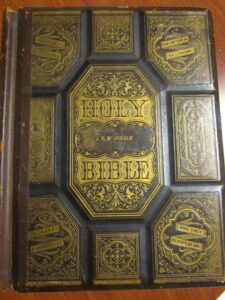 New Illustrated Devotional and Practical Polyglot Family. National Publishing Co., 1870.
This elaborate family Bible, stamped "J.E. McDougle" on the cover, belonged to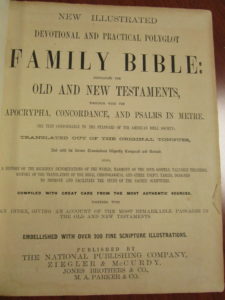 James Ellison McDougle, son of George McDougle. James came to Texas with his parents in the 1830's.  The McDougles were among the earliest settlers of northwest Harris Co.  The family records in the Bible begin with James' birth in 1829.  Family records began to be recorded in Bibles in the days when the Bible was often the only book owned, and paper was scarce.  Soon, publishers began providing special pages in the Bibles, often between the Old and New Testaments, for recording family records.   Though this Bible is only in English, it is called "Polyglot" because it includes many of the notes and cross-references from Samuel Bagster's famous Polyglot Bible. (B45 Donated by Anita McDougle)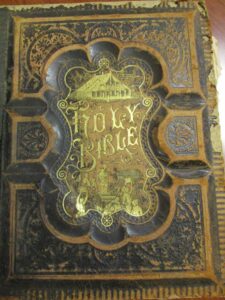 Parallel-Column Edition of the holy Bible, containing the Authorized and revised Version of the Old and New Testaments.  Dallas, Texas: Texas  Baptist Publishing House, 1886 
This Parallel-Column Edition of the Holy Bible contains both the Authorized (King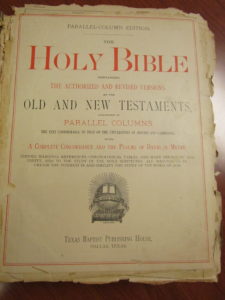 James Version) and the Revised Version of the Old and New Testaments.  Study aids by William Smith and many illustrations were also included.  After the page for the Family Marriage Record, a page for taking the Temperance Pledge was provided (neither page was signed in this Bible). (B55 Donated by Katherine Bentelson)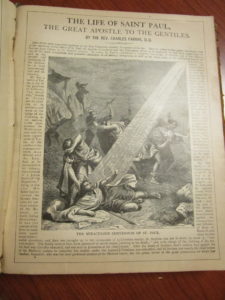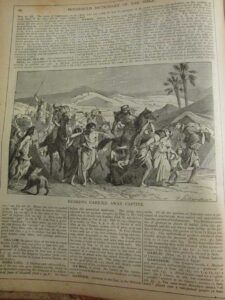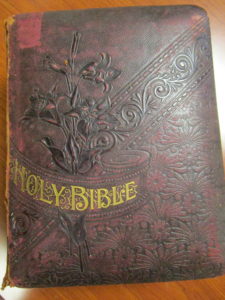 Holy Bible containing the King James and the revised Versions of the Old and New Testaments arranged in parallel columns.  Galveston, Texas: McDonald Publishing Co., 1892 .
Like many Family Bibles of the day, this Bible contains an encyclopedia of information in addition to the text of the Scripture, including the following:
a history of the translation of the English Bible,
history of the religious denominations of the world,
biographical sketches of translators, reformers, and martyrs who preserved Scripture,
description of Israelitish Tabernacle and furniture,
description of Temples of Solomon and Herod,
Chronological and other valuable tables
Bible stories for young
Trees, plants, and fruits of Bible with descriptions,
4000 questions and answers on Old and New Testaments
Scripture difficulties explained
Sketch of the life of Alexander Cruden
Cruden's concordance
Metrical psalms   (B73)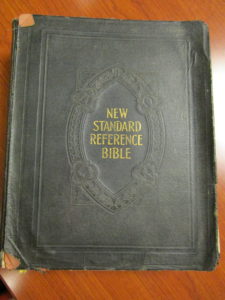 The New Standard Alphabetical Indexed Bible, School and Library Reference edition containing the Old and New Testaments.  Chicago: The John Hertel Co., 1936.
 The New Standard Alphabetical Indexed Bible  won a blue ribbon at the Texas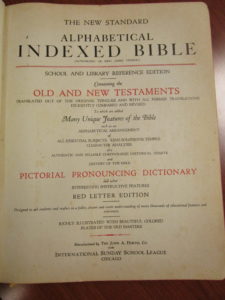 Centennial State Fair.  It included a history of the Bible, chronological charts, a pictorial Pronouncing Dictionary and was "richly illustrated with beautiful colored plates of the old masters." (07.3 Donated by William J. Standley)