By Dr. Leslie Kennedy Adams, BA '86, MLA '87.
 "I must study politics and war that my sons may have liberty to study mathematics and philosophy. My sons ought to study mathematics and philosophy, geography, natural history, naval architecture, navigation, commerce, and agriculture, in order to give their children a right to study painting, poetry, music, architecture, statuary, tapestry, and porcelain." -John Adams
John Adams, one of our founding fathers, the nation's first vice president, and the nation's second president, said it best. I truly feel that we all must take an interest in and know more about our country's history, its wars, and the sacrifices of its veterans if we are to truly appreciate the freedoms we enjoy.
I've studied, written about and taught courses on war literature and film for nearly 30 years now. I was initially drawn to this area of study because I am a miliary brat; my father was a marine F-8 Crusader pilot, and my stepfather was a marine F-4 Phantom pilot who flew two tours in Vietnam and served in the military until I was 11 years old.
Growing up, I saw first-hand the sacrifices our nation's military personnel and their families make to ensure that my daughter and other people's children can study just about any subject they want. Ironically, my daughter, a Studio Arts major at the University of Texas does "study painting, poetry, music, architecture, statuary, tapestry, and porcelain" [in her case, sculpture].
Most of my scholarship has focused on veterans' responses to their experiences in the Vietnam War, although I have also studied and written about works from the Civil War, World War I, World War II, and Korea. Most recently, my focus has expanded to include a new field of inquiry, Veterans Studies.
As Marc Brodsky and Bruce Pencek of Virginia Tech explain in an article they presented at the Charleston Library Conference in 2013, America's lengthy engagements in Iraq and Afghanistan have contributed to "the largest influx of veterans into higher education since World War II. Student veterans are forming or have formed communities based on their shared experience and have demonstrated both a desire to further understand their own experience and to investigate, in a scholarly way, the social, historical, political, and civil aspects of their service. These interests are forming a new focal point for areas of study already established, such as war literature and military sociology, while also providing the basis for a growing number of writing classes and related programs" (1).
In 2016, I was granted the opportunity to attend my second National Endowment for the Humanities (NEH) Summer Institute, Veterans in Society: Ambiguities and Representations, at Virginia Tech in Blacksburg, Virginia. The program focused on several key questions: What does it mean to be a veteran? To whom? For whom? Participants were selected from a variety of disciplines, including literature, sociology, history, veterans studies, and religious studies. Many of the participants were either active duty military or veterans themselves; I was one of two military brats invited to join the learning community. The scholars and speakers (the faculty) were also drawn from across the disciplines. They included key members of the Virginia Tech faculty as well as Dr. Jonathan Shay, author of two key books on the "moral injury" associated with combat trauma, "Achilles in Vietnam: Combat Trauma and the Undoing of Character," and "Odysseus in America: Combat Trauma and the Trials of Homecoming;" Benjamin Busch, veteran, actor, director, artist, and author of "Dust to Dust: A Memoir;" Ken McQuiston, 16th Chief Master Sergeant of the Air Force; Donna Musil, writer and director of the award-winning documentary, "Brats: Our Journey Home;" and Dr. Mariana Grohowski, editor of The Journal of Veterans Studies; Peter Molin, veteran and professor of literature at Rutgers; and songwriter Nathan Bell.
We spent two weeks focused on the experiences of Americans in combat – both men and women, both combatant and non-combatant personnel; the third week of the institute was devoted to the experiences of military dependents, also called military brats. We traveled to Washington, DC, where we visited Arlington National Cemetery and the Library of Congress. Our tour of Arlington was led by Dr. Paul Quigley, director of the Virginia Center for Civil War Studies and the James I. Robertson, Jr. Associate Professor of Civil War History at Virginia Tech. The trip also allowed me to visit my father's grave at Arlington, located just south of the Tomb of the Unknown Soldier. The following day, we toured the Library of Congress, where we each received our own Library of Congress library card, and met with the staff and director of the Veterans History Project. On our trip back to Blacksburg, we toured the incredibly moving National D-Day Memorial in Bedford, Virginia.
NEH Summer Institute participants are expected to take what they have learned during their study and apply it in their scholarship and classrooms. I was able to do so nearly immediately. In August, I taught Creative Nonfiction at HBU. My students studied a variety of subgenres of nonfiction, including personal narratives, non-fiction novels, memoirs, oral histories, and travel writing. The students' assigned reading included, among others, Peggy Noonan's "The Time of Our Lives: Politics, Passions, and Provocations" (Noonan was the speaker at HBU's Spirit of Excellence Gala in 2016), Michael Herr's "Dispatches," Benjamin Busch's memoir, "Dust to Dust," and Wallace Terry's "Bloods," an oral history of African-American soldiers and pilots who served in the Vietnam War.
While teaching that course, I was also able to fulfill both a personal and professional goal by attending the 55th reunion of my father's US Naval Pre-Flight Class (44-61), which was held in Tucson, Arizona. I had been invited to the group's 50th reunion but had been unable to attend – the group holds a reunion every five years. At the reunion, I met many of the men who flew with my father and were his friends. I never knew my father; he was killed on March 14, 1964 when his F-8 Crusader went down in bad weather just outside Barksdale Air Force Base in Louisiana just four months before I was born. It was an honor to meet these brave men and to record their oral histories. I am currently finishing up my transcriptions of those interviews in preparation for submission to the Veterans History Project.
That fall, I had another opportunity to share what I had learned at Virginia Tech:  I applied for and was selected as one of four discussion leaders for the Houston cohort of The Telling Project's latest initiative, "Planting the Oar." I was honored to have Dr. Max Rayneard, senior writer/producer and director of Research and Outcomes for The Telling Project and director of Planting the Oar, visit my Creative Nonfiction class and share his experiences working with veterans, taking their oral histories, and scripting for theater productions with my students.
The following spring, my fellow discussion leaders and I underwent several weeks of training before recruiting participants for our discussion groups. My group met on the HBU campus. Each week (or, in my group's case, every two weeks), discussion group participants met to talk about a classic piece of war literature. We started with Homer's Odyssey, then moved on to Shakespeare's "Othello," Wilfred Owen's war poetry, and Virginia Woolf's "Mrs. Dalloway" before ending with Tim O'Brien's "The Things They Carried." At the final meeting, our groups watched a recording of The Telling Project's performance in Tampa, Florida. It was a wonderful experience that I hope to be able to repeat at some point in the spring or fall at HBU. In fact, if you are interested in participating in the next discussion group cohort, please send me an email at LAdams@HBU.edu.
My work outside the classroom has included serving as a peer reviewer for The Journal of Veterans Studies and volunteering as a grant writer for the ReGroup Foundation. Dr. Mariana Grohowski, one of the visiting faculty at the NEH Summer Institute, founded the Journal of Veterans Studies in December 2015; the journal's editorial board includes a number of the scholars with whom I attended the NEH Summer Institute at Virginia Tech. I first met Dr. Grohowski at CCCC in April of 2016 after listening to her give a fascinating paper on several novels written by women veterans of the wars in Iraq and Afghanistan.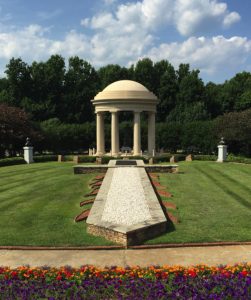 This past July, I started working with the ReGroup Foundation, a non-profit whose mission is to help military personnel and their families "regroup" following the veterans' separation from the armed services by providing them with a place to live, learn and grow stronger mentally, spiritually and financially. Residents will be housed for free for 18-plus months on ReGroup properties called "ranches" as they work through the foundation's three-step transition program.
These ranches, the first of which is currently under construction in New Braunfels, Texas, will be self-sustaining. They will run on wind and solar power; staff at each facility will grow fish and produce using hydroponics/aquaponics technology. The aquaponics facilities are multipurpose: they will provide food for the residents and staff, they will provide residents with therapeutic, educational and entrepreneurial opportunities; they will generate income for the foundation's operating expenses as excess produce and fish will be sold locally. The New Braunfels ranch, truly a prototype for future ranches to be built across the country, will have living space for up to 23 veterans: six male veterans, six female veterans, three couples, and one veteran with a family. (Some couples may both be veterans, and families may have two veterans as heads of household.) For more information and/or to donate to the cause, visit the foundation's website: Regroup4vets.com.
Today, less than one percent of Americans serve in the military. That's sobering. The gap continues to widen between our country's veterans and their civilian counterparts. Reading, discussing and studying the non-fiction and fictional accounts of our veterans' experiences is one way each of us can do our part to bridge that gap and to honor those who serve.
Reference
Marc D. Brodsky and Bruce E. Pencek. "Is the Library Ready for an Emerging Field? The Case of Veterans Studies" (2013). Proceedings of the Charleston Library Conference.
---
About the Author
Dr. Leslie Kennedy Adams, BA, '86, MLA '87. Dr. Adams is an adjunct faculty member of the Houston Baptist University Pampell Online Division.