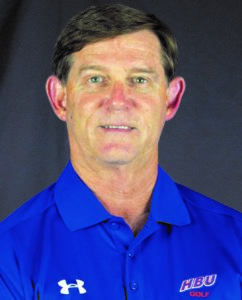 Coaching Philosophy:
I believe that coaching has to be a passion first. Secondly, you have to enjoy teaching others to become the best that they can possibly be by hard work, self-discipline, work ethic, respect, accountability and responsibility – both in the classroom and on the playing field. A large part of coaching has to come from the heart; you have to show others that you truly care about them. Leadership and respect are things that are earned in time. Listen, learn and live it!
Women's head golf coach, David Shuster, began coaching at a young age, leading summer leagues and working in his local recreation department. He competed in multiple sports, and eventually narrowed his focus to golf, which he played at the college level. After graduating from Angelo State University in 1980, Shuster went on to coach at the middle school and high school levels. He joined HBU as head men's and women's golf coach in 2007.
The women's golf team has enjoyed significant success, including winning four Great West championships, and winning two Southland Conference championships within the past three years.
Coaching players at HBU is particularly meaningful to Shuster. "HBU's higher education, the preamble and the Ten Pillars help to give our students, staff and faculty a wonderful vision of what it means to grow our knowledge in a Christian-based environment," he said. "To have the ability to hopefully mold the next generation into powerful leaders and Christ-followers is really what makes it a special place."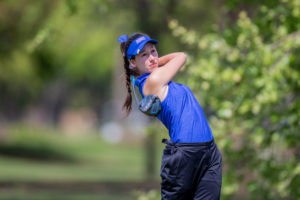 Sophomore player, Grace Cassity, was drawn to the legacy of the golf program. "My older brother, Trey, and older sister, Caitlyn, both played for Coach Shuster at HBU. Preston Stanley, my new brother-in-law, also played for Coach Shuster and was HBU's 2015 male Athlete of the Year. Trey and Preston both earned a conference ring and my sister earned two when they played here," she said. "They all liked the school and the coaches, which made me more confident in my choice of playing for HBU. My whole family is very grateful for Coach Shuster giving us the opportunity to play Division 1 golf."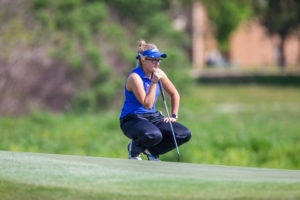 Sara Zrnikova, a junior, said it is the coaches who make the difference. "The coaches are the main reason why I signed a letter of intent," she said. "We had great communication, and after my first call with them, I just knew I wanted to be part of the team. Golf taught me patience, confidence and faith. It also taught me that one bad hole does not necessarily mean that the whole tournament is lost. The same principle works in life too."
Senior Alisa Chong said, "Each year, I went through an injury that prevented me from competing in a tournament. I tried really hard each time to bring myself back to competing condition. My team is amazing. We've all been through a lot individually and as a team, but we rise above it every time, which helped us win the Southland title in 2017 and 2018. My coach always reminded me that, if you keep going, if you keep working hard, it will eventually work out. In golf, we fail a lot, but it's a matter of seeing success in that failure."