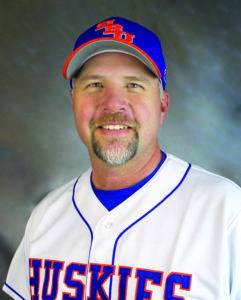 Coaching Philosophy:
The main thing I believe in is instilling in players that they have to hate to lose more than they love to win. Baseball is a game of failures; as in life, how you deal with failures helps determine your success.
Even in high school, Jared Moon '95 knew he wanted to be a coach. The HBU head baseball coach played as a catcher for the Huskies, and after graduating, he volunteered with the team before becoming an assistant coach and then head coach in 2005. Under his leadership, the baseball team transitioned from NAIA to NCAA play. He led the team to 10 conference championships in the mid-90s to early 2000s, and to the Southland Conference championship in 2015. He was inducted into the University Hall of Honor in 2008.
Moon loves to win, and he first ensures his players and the baseball program is made of young men who are winners in several ways. "I try to impart respect. I look for people of high character," he said. "We've passed on a lot of good players because we knew they wouldn't be a good fit for our university. We are looking for players with good Christian values who are all-around good people. We're not only trying to win ballgames, but to create good young men who will be good fathers and coworkers. It's ultimately more about the legacy they leave. It's not just winning a game or a championship. I want our guys to win at life."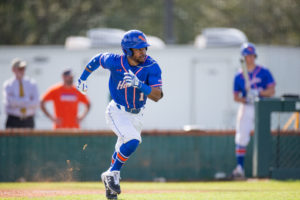 It's a lesson that Brandon Bena, a senior outfielder, has taken to heart. "Who I am as a person – my character – will directly relate to what kind of teammate and ballplayer I am on the field," he said. "A regular gameday takes up six or seven hours of my day, with the game taking up about three hours. I ask myself, 'What I am doing during those other 17 to 18 hours?' If I am selfish, not working hard, not passing my classes, and overall not succeeding as a person, then how can I expect to find success during a three-hour game? Life and baseball go hand in hand."
Senior Kyle Gruller, a pitcher, said baseball has taught him "patience, how to control emotions, that success requires hard work, and how to win and succeed."
Senior infielder Trent Franson said, "The best part about baseball is that it is a team game that relies on individual success. The game is won through the work and unity of a team, while pressure is put on individuals to perform well. As a player, this makes you conscious of how you must put in the time and effort in all parts of the game so that you are prepared to help the team achieve its goals. This sense of preparation is something that I see carry over to other aspects of my life and I think it provides a huge advantage. Our team has some big goals ahead of us for this coming year and we all want to work together to accomplish them."