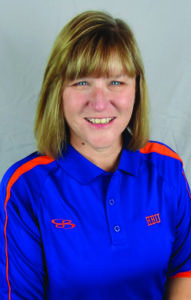 Coaching Philosophy:
We strive to consistently demonstrate excellence, positivity and passion in every opportunity – regardless of circumstance. This is done with gratitude, love, trust, determination, pride and respect for one another and the game. These personal and collective efforts, with God's grace and blessings, allow us to become one in our endeavors and in our lives' walks with Him.
After Mary-Ellen Hall '88 graduated from HBU, she immediately returned to her alma mater to serve as an assistant softball coach for the newly formed program. Since 1991, she has served as the head softball coach, and has guided the team through transition and growth. Additionally, she is the senior woman administrator for athletics.
"It has been amazing to see all the changes at HBU," she said. "I think back to when I was a student, and the campus looks so different. Because of the location of the softball field, we were able to watch the construction of the Morris Cultural Arts Center, the Hodo Residence College and Husky Stadium. Even though there has been so much change and growth at HBU, it has not lost the feel of a close-knit community."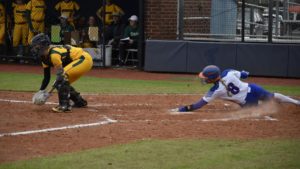 Hall reached a major milestone – her 800th win – recently. She is quick to share the praise with others. "It takes dedication, cooperation and a lot of hard work year-in and year-out by the players, coaches and all the support staff," she said. "Our players' parents have been a huge support, as well as our alumni. The athletic director and HBU president have been imperative to the success of our softball program. Without the continued support of all these people, none of the success would be possible."
About four years ago, Hall faced her biggest challenge when she had a stroke. It wasn't long before she was back on the field and coaching her players. "The athletic director, Steve Moniaci, had said, 'You work on getting better and come back to work.' That gave me so much hope and motivation," she remembers. "I'm very lucky that HBU stands behind me and believes in me."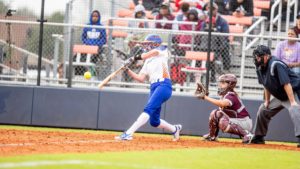 Second baseman Amber Lotz, a senior, said playing for HBU has reinforced lessons in teamwork. "I've learned from my HBU coaches to play the role they give me to the best of my ability and for the team's benefit, not my own," she said. "We always represent HBU with good sportsmanship."
Junior Jessica Patak, a pitcher, agreed. "One big thing softball taught me is responsibility," she said. "It helped me in college to balance sports and school. I am also responsible to my team and people are counting on my contribution."
Heidi Jacquez, a senior and a catcher, said she will carry the lessons learned from softball throughout her life. "It has taught me to cooperate, to be less selfish and to listen to others' ideas. I have gained confidence as well, watching myself and the team grow. I've also gained a great work ethic. I have learned that nothing great comes easily, nor is it handed to you. If you want something in life, you have to work hard for it."