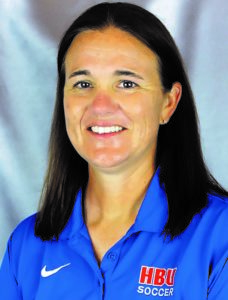 Coaching Philosophy:
I believe that the impact on lives that I have as a coach is more important than the number of wins or championships I earn in my career.
Since the HBU women's soccer program inception in 2006, Head Coach Misty Jones has served at the helm. Since then, the team has won three conference tournament championships (Great West, 2010, and Southland in 2014 and 2016), along with two NCAA appearances.
"It was great to be able to build a strong, competitive, family-oriented culture from the beginning," Jones said. "I instill core values like respect for others, hard work, never giving up, and servant leadership into my teams. One of our mottos has always been, 'In Your Name we play,' which reminds us that we represent Christ in everything that we do, and it is our responsibility to give everything that we have in all we do."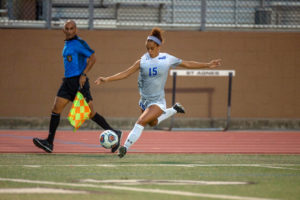 Jones knows about excelling in soccer. She was the four-year team captain, as well as an all-conference, all-region, and academic all-conference player, as well as a leading goal scorer during her time playing soccer for Judson University.
"Sports are great for teaching life lessons," Jones said. "They teach that one's actions impact others. They teach students how to function as a team member, and how to put others above themselves. Sports reflect that hard work pays off. Sports take students out of their comfort zones and teach them that they can achieve more than they think they can. And through sports, students develop relationships with teammates and coaches that will last a lifetime."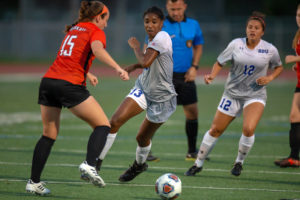 Whitney Johnson, a senior midfielder and this year's team captain, said, "There is not a team like the team I have. They are truly a family. When I came on my visit and met the team, I immediately knew they would be my sisters and closest friends. I have never been on a team that is so accepting and caring about me, as not only a soccer player, but as a person as well."
Outside back player Alicia Torrez, a senior, was a four-year starter and a four-time team captain in high school. "Right away, I knew this program was different – in a good way of course!" she said. "The team is not just a team, but a family, and that is felt. We all push each other to be the best we can be. Each day in the weight room and on the field, maximum effort is given. We fight for each other. We know what we are capable of and do not settle for less. The coaches have brought out more confidence in me as a player, which has carried over to other areas of my life. They have always held me to a high standard and pushed me to my full potential and more. I will forever be grateful for the player they have made me to be, as well as the person I have become, over the past four years."