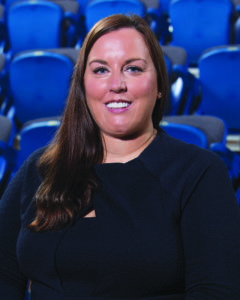 Coaching Philosophy:
"The little details make the biggest differences. Pay attention to detail daily and have no excuses. We preach doing things the right way and knowing you have given your all."
After being introduced to basketball at the age of 14, Donna Finnie never looked back. She received a scholarship to play at Lamar University in Beaumont, and then returned to her native Edinburgh, Scotland. Finnie had a feeling she would be back to Texas, and later accepted an assistant coach position at HBU in 2010 after serving as the head coach of the U18 Scottish National Team for seven years and identifying potential Olympic athletes.
"The transition from international coach to HBU was seamless because you can connect with people here," she said. "It's not a big school and it's such a great place to be because everyone is so welcoming and supportive."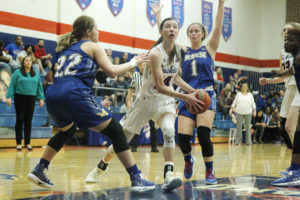 In 2013, Finnie became the HBU head basketball coach. Finnie was the first international coach ever to be the head coach of a NCAA Division 1 basketball team. She is the winningest coach at the Division 1 level in the HBU basketball program's history. Her international experience has been a boon for recruiting and for connecting her players with opportunities as well.
"I'm proud that we have given opportunities to several girls to play overseas when they finished their degrees at HBU," she said. "We have had girls play professionally in Australia, Romania, Ireland, Portugal, Spain, England, Luxembourg and Germany in the past six years."
When looking for players, Finnie emphasizes character. "We want players who are, first and foremost, good people. I'm looking for those who do things the right way and lead their lives by the Golden Rule. We want motivated young women who have goals and see HBU as the place that can help them achieve those goals."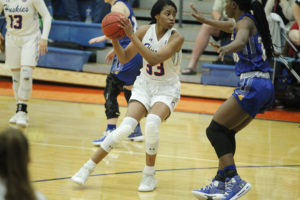 Sophomore guard, Julija Vujakovic, invests substantial time in basketball and maintains strong study habits. "I am very organized," she said. "If I got bad grades at school, it would translate on the court, so I don't allow myself to fail in class."
The team has placed high consistently in the WBCA (Women's Basketball Coaches Association) Top 25 Honor Roll for players' GPAs. "Our girls take academics very seriously, and do an incredible job of balancing school with basketball demands," Finnie said. "We do everything we can to make sure our student-athletes are students first and foremost. We've been blessed that we've had some great players in our program and great staff. If you can balance playing Division I college basketball over both semesters with maintaining a high GPA at HBU, then then you are going to be okay in whatever your next step in life is."
Lauren Calver, a senior forward, said athletics competition requires and builds confidence. "A lesson I have learned from basketball is to believe in myself," she said. "In basketball, you cannot succeed unless you believe in yourself and your teammates. Similarly, in life, you must have faith in your abilities to be successful and achieve your dreams."