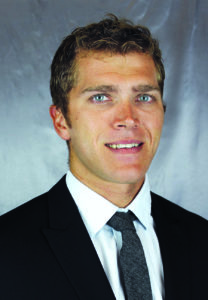 Coaching Philosophy:
I believe in a program built on creating athletes who embrace their own training. We try to get our beach players to self-correct in order to allow for a player-driven culture with a focus on effort and purpose.
HBU Athletics became only the second university in the state of Texas to enter in Division I beach volleyball competition, along with Texas Christian University, beginning in 2016. More institutions are catching on. In August 2019, the Southland Conference announced that nine beach volleyball programs will compete under the championship oversight of the conference in 2020. Southland Conference beach volleyball opponents are Abilene Christian University, University of Central Arkansas, University of New Orleans, Nicholls State University, Sam Houston State University, Southeastern Louisiana University, Stephen F. Austin State University and Texas A&M University at Corpus Christi.
Beach volleyball differs from indoor volleyball; games consist of five dual matches with two players from each team. A doubles team match is taken by the pair who wins two sets. Then, the team dual is won by the team that wins the majority of the doubles matches (three of five). The fast pace and uniqueness of the sport have drawn players and fans alike.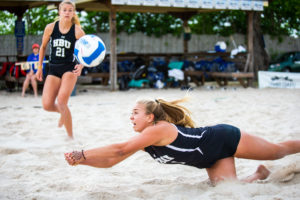 "Beach volleyball is the fastest-growing sport at the women's college level of all time," said Cameron Sitler, HBU head beach volleyball coach.
Sitler began playing indoor volleyball as a student-athlete in college, and spent summers competing in beach volleyball tournaments. His background in both indoor and beach volleyball gives him the perspective necessary to coach for skills and strategies. In the past several years, the HBU volleyball team has won the Southland Showcase back-to-back; team members have ranked as pair of the week nationally and have held their own against nationally ranked teams.
Sophomore Natalie Bennett plays as a defender on the team. "So many people are intrigued when I say I play beach volleyball," she said. "They are very interested and often ask a lot of questions about the game."
Defender Tori Hinojosa, a senior, said transitioning from indoor to beach volleyball and playing for HBU has been rewarding. She was selected to be a member of the USA Volleyball Collegiate Beach National Team in 2019. "We, and those before us, were able to build a program and leave a legacy for our school," she said. "Being part of something that has so much love and support behind it is really one-of-a-kind."
Team captain, blocker Danielle Wheeler, said entering into her last season of HBU beach volleyball is bittersweet. "To see how much the sport has grown in the three years I have been here has been amazing and humbling. It has been so cool to see the sport grow. Our fan base has increased, and the overall knowledge and respect for the sport has dramatically improved," she said. "I'm so excited to see how far this program has come and how much further it will go."