HBU Nursing alumni have shown incredible leadership and compassion during the COVID-19 crisis as they have served the Houston area.
 Pablo Vasquez
Pablo Vasquez '02 learned early to care for his community. As the child of missionaries to the Canary Islands, he combined a passion for people and science in a nursing degree. He remembers his time in the HBU Nursing program fondly. "Caring was part of my DNA and doing it in a clinical way was perfect. In the HBU Nursing school, students had closer interaction with clinical faculty," he said. "We learned not only to be novice nurses, but servant leaders."
Vasquez began his career with Houston Methodist working in the ICU. Later he transitioned to a nurse manager role in the medical-surgical ward and furthered his education with an MBA from the University of St. Thomas.
After a year as a nurse in Oklahoma, Vasquez returned to the Methodist system where he worked in orthopedics before serving as a chief nurse for the rehabilitation hospital in The Woodlands. He served as a director of critical care for CHI St. Luke's in The Woodlands before returning to the Methodist system to work as associate chief nurse, and later, operations administrator, at The Woodlands campus.
This spring, Vasquez was busy with work and his doctoral program at the UT Health Sciences Center, when he received a call asking if he would establish and lead a COVID-19 unit at the Houston Methodist Continuing Care facility in Katy. The charge was to assist administration in putting a nursing team together and opening a unit in a former labor and delivery area – in one week.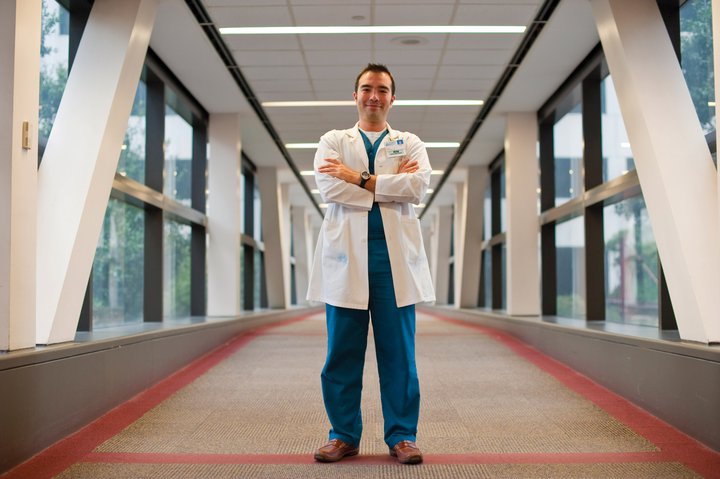 "It was March and the COVID crisis had evolved," Vasquez said. "The labor and delivery ward had been tagged as a unit that could be activated to put special populations in there. We just needed call bells and additional supplies. We sent an email to all nurses in the system saying we are looking for volunteers. We got a great response and moved forward with orientation and group meetings. Our first patient was admitted March 23."
Everything happened so quickly, Vasquez hardly had time to feel trepidation. "It was mixed emotions because we were trying to figure out what was going on with this virus and thinking, 'Am I going to have everything I need to keep my team safe?' There was no question that I would help; that's what we do as nurses – respond when patients are ill," he said. "It was an honor they reached out to me. I think I've been in the system and that gave the team reassurance. Also, we've had great support from our hospital system with great access to personal protective equipment (PPE). A lot of people behind the scenes were making sure we had everything we needed."
Vasquez manages staffing, supplies, transfers, reviewing patient charts, case management, coordination with the pharmacy, and more. The nursing care team is particularly special because each of them volunteered from one of seven hospitals throughout Houston to care for patients.
Nurses don gowns, surgical masks, face shields, and gloves each shift. "There is now more of a comfort level with the PPE and our new normal," Vasquez said. "Many of us feel safe because we know we're protected."
The unit started with 63 beds, and decreased capacity over time. Many have expressed special appreciation to the team. "We've had so many organizations, individuals and patients we've discharged bring goodies and food," Vasquez said. "We've received art from local students – that's something I'll never forget is how appreciative the community has been."
Abbey Hannah Brant
Working in the telemetry and intermediate care unit of Houston Methodist West Hospital during night shift, Abbey Hannah Brant '19 has been asked how long she's been a nurse. "They're surprised when I say I'm in my first year of nursing," she said. "Then they want to know where I went to school."
The HBU Nursing program prepared Brant with the clinical skills and confidence that she would need in the care setting. A high level of professionalism and expertise is essential in any nursing role, but Brant faced a new challenge this spring. In March, Brant learned that her unit would be temporarily converted to an investigation unit for potentially COVID-19-positive patients.
Brant was enthusiastic at the opportunity to help at such a time. She and the other medical staff would work with patients who were suspected to have COVID-19 and treat their conditions. If the patient's test results came back positive, they would later be transferred to a COVID-19-specific unit.
Brant remembers the day face shields were delivered to the unit, and nurses had to learn a new routine for working with potentially COVID-19-positive patients. After donning full protective gear, nurses would enter a patient's room. Upon emerging, the safety routine involved washing the face shield for three minutes. The protocol is tedious in order to avoid cross-contamination if one patient has the virus and another doesn't.
"The HBU Nursing School put a big emphasis on being a watchmaker instead of a time-teller – understanding how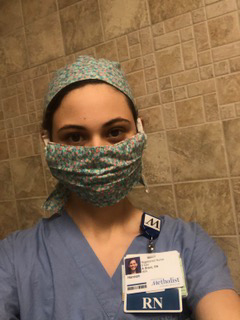 everything works and how the human body works and how a patient should be expected to respond clinically," Brant said. "That's been very helpful caring for patients with a new disease. Rather than simply looking at their clinical data and reporting it, we're trying to analyze what it means and how the patient is doing. I have learned things like when to call the doctor sooner or the nurse practitioner and when the patient is still okay. A lot of patients can be very anxious, so sometimes it's hard to tell how they're doing clinically when you have them say they're not okay."
More than nursing training alone, Brant said her time in the HBU Honors College served her well. "We studied suffering in the context of a world that may appear bleak and hopeless but is not without hope. Writings by people like Bonhoeffer and Churchill helped shape what it means to have hope in the midst of suffering," she said. "That has helped me in the quiet moments when the patient is still anxious and petrified – being able to sit down with them even if I'm wearing a gown and a mask and face shield and being able to hold their hand and pray with them and help them see that there is still hope. It has been helpful in my own endurance as well."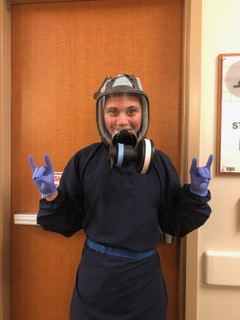 Brant looks forward to growing in her profession and continuing to learn. "I think foundationally to be an excellent nurse, you must care for your patient as much as you care for yourself and then to do so skillfully and have the clinical skills to assess your patient and know when to escalate things," she said. "I'm grateful for mentors and inspiration. Florence Nightingale defined a nurse as someone who has the responsibility for the health of another. I think in order to do that well, preeminently you have to go back to the biblical commandment to love your neighbor as yourself."