Often, student-athletes who have the opportunity to play college basketball have to make a big choice about where they want to pursue their education and further their career on the court. For Jalon Gates, HBU offered something no other school could – the opportunity to play on a team with his brother, Will Gates Jr.
Many are familiar with Jalon and Will's father, Will Sr., who was one of the two teenagers featured in the critically acclaimed 1994 documentary, "Hoop Dreams." When Jalon was just 14, his parents decided it was time for a fresh start for the family and the Gates family made the move from inner-city Chicago to San Antonio, Texas.
"I was 14 coming right out of eighth grade," says Jalon. "My dad wanted to give us a better life because the area we lived in wasn't the greatest. Will really needed a fresh start. My dad didn't have a job coming down here. My mom didn't have a job. My sister already had a job in Chicago, but we moved down here on faith, and here I am."
Will Jr. transferred to HBU in January of 2015, joining the basketball program with two-and-a-half years of eligibility remaining. Jalon then joined the Huskies for the 2016-17 season as a freshman.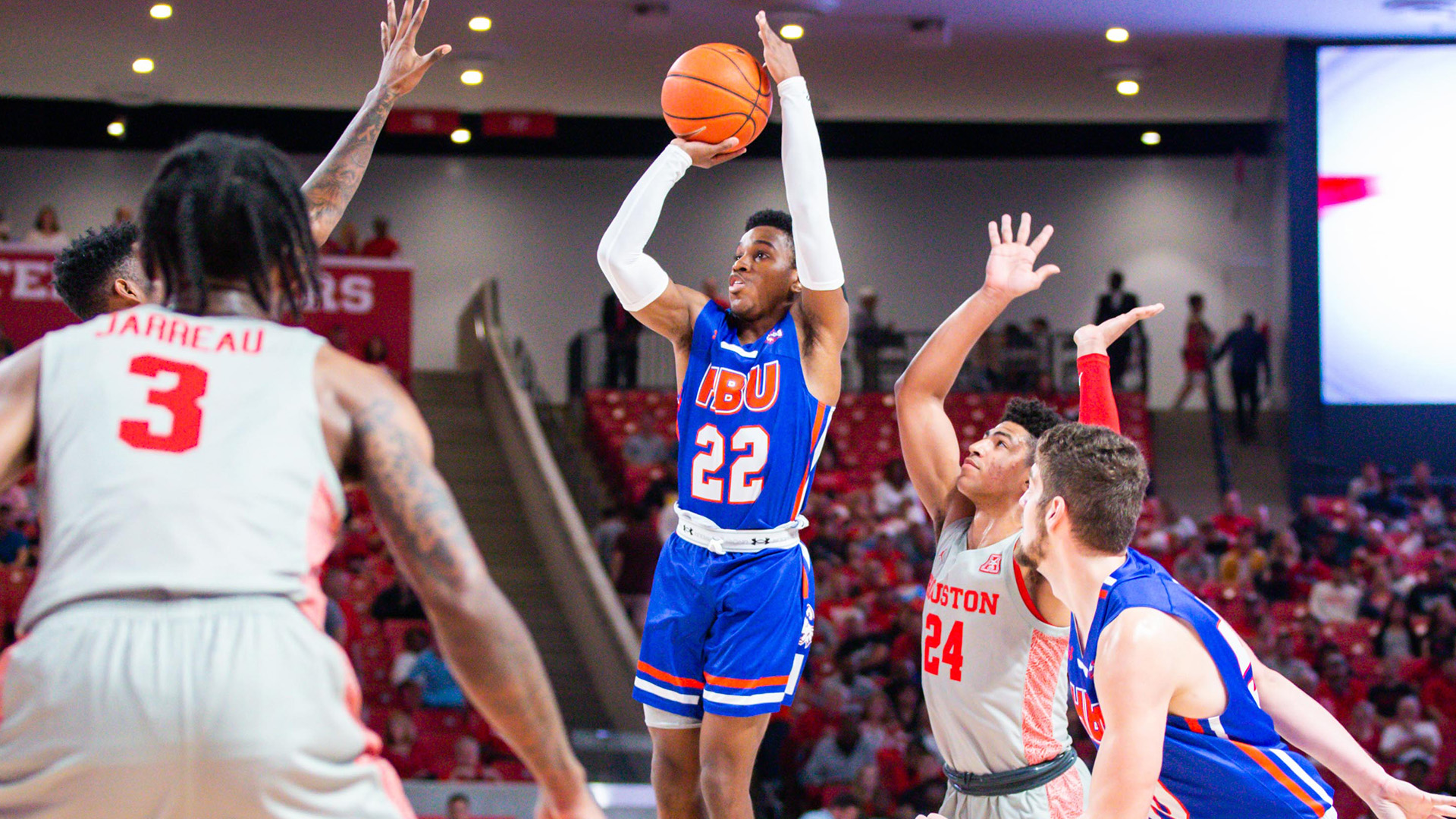 "I went on a few visits to some other schools and one thing that stuck with me about HBU was, not only did I like the coaching staff, but I liked the home atmosphere I felt here," he said. "It's so cliché to say 'God directed me here,' but it's the truth because I really felt like it was meant to be. With Will being here already, I thought, 'Who else is going to have the opportunity to play Division I basketball with his brother?'"
Jalon and Will Jr. got to play together for two seasons, wearing #21 and #22, respectively. This past season, his senior year, Jalon made 88 three-pointers for the year, which ranks as the second most in a single season in program history. That's on top of his sophomore season in which he connected on 75 three-pointers, the 10th-highest single-season total. Also during his senior season, he joined elite company as one of just three players ever to play for HBU to make at least 200 career three-pointers and score 1,000 career points.
Gates remains humble about his accomplishments and keeps them in perspective as part of something greater, saying, "It's a blessing, truly. I get to go to school for free, play the game I love, go on trips and all these things. You couldn't ask for more. The accolades and achievements are just a bonus on top of it. It's great to be acknowledged for 200 made threes and 1,000 points, but I feel like even if I came here and sat the bench all four years, I would still have enjoyed the experience."
Beyond the court, Jalon credits a number of people whom he has met on campus with having a great impact on his life and growth as a person. From faculty and staff to teammates and student-athletes who play other sports, he adds, "Meeting people here has been an unbelievable experience. Everybody has played a great role, not only on the court as a player, but as a man. People come here to grow. That's what college is supposed to be about. I feel like at the end of my career here I can say I gave it my all and I got out of it what I needed to."
When thinking about how he's going to look back on his time at HBU, he is quick to respond. "It's going to be nothing but smiling, absolutely, just smiling," he says with a big smile on his face. "I got the chance to see and do things I would never have done without the game of basketball, and I get a degree out of it. I'm going to look back on it as an