While HBU has seen its fair share of sibling teammates over the years, it has primarily been sibling duos wearing the blue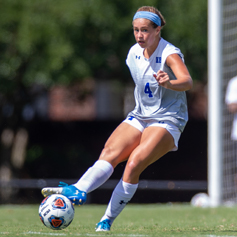 and orange. That isn't the case for the current iteration of the Husky women's soccer team with sisters Tayah, Bryce and Maggie Reynolds all playing for head coach Misty Jones.
Hailing from Riverdale, Utah, and the same high school and club teams as recent Husky standout Ellee Hall, it was the middle sister, Bryce, who was the first to make her way to the HBU campus. Jones and Associate Head Coach Chris Dodd identified Bryce as a recruit when she was a junior after seeing her at a national tournament with her club team. Her connection with the coaching staff, as well as hearing from Hall about her experience, was enough for her to commit to play for the Huskies along with club teammate Ashley Arnes.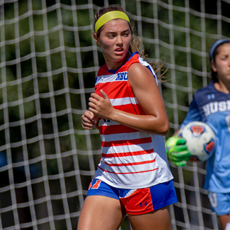 Once she was on campus, her sisters took notice of her experience. As Maggie said, "Every time I would FaceTime her back in Utah, she looked so happy, and she always bragged about how awesome HBU was. She loved her teammates and made HBU her new home."
"I always joked about how they should come here, but never thought it would be a reality," Bryce added.
Tayah, the eldest and a year older than Bryce, spent two years at Snow College in Ephraim, Utah, before making the decision to join the Huskies for her final two seasons of eligibility, while Maggie also signed to come to Houston as a freshman.
"The first semester Bryce was at HBU, I came to Houston for spring break to hang out with her and her friends. I loved every second of it," said Tayah. "That trip is what made me want to come to this school."
It may be obvious that the prospect of playing together in college was a draw for the sisters, but it became clear that each came for their own reasons.
Maggie, who made the decision to join Bryce first, said "In the end I couldn't say no, because I could see a life for me at HBU playing with the team and really wanted the team to be successful."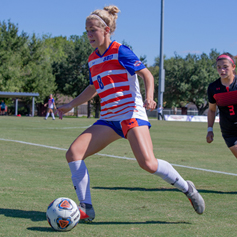 With a year separating each of them, the trio have always had a close relationship. As Bryce noted, "Soccer has always played a huge role in keeping us close because we've always trained together and have that passion in common. Our family's from Utah, so if my sisters didn't come here, then we would only see each other a couple times a year. Now that we're in college, being able to live close together and see each other every day has kept us really close."
"I'm really thankful that my sisters and I have fantastic relationships with one another, because I know it's something I shouldn't take for granted," Maggie added. "Moving over 1,300 miles away from everything you call home tends to bring people closer, I think. We each have our own lives here at HBU, but in a way, I feel like we are closer than we have ever been!"
"The three sisters are a lot of fun to have around," said Jones. "They each have their own personalities, but show similarities as well. Maggie is the most outgoing and the loudest. Bryce is the artsy one who is vocal on the field and a strong leader. Tayah watches out for her younger sisters, is more reserved, and very easy-going."
When talking to the sisters about their siblings, and even Jones about the trio on her team, one common theme was evident: hard work. Each of the three Reynolds mentioned how hard their siblings work while Jones was effusive in her praise of the sisters, saying, "They are three of the toughest players we have ever had. All three are hard workers and push through adversity and injuries and have great attitudes."
On the field during the 2019 season, all three were in the starting lineup for the Huskies' season-opening 5-0 win over Prairie View A&M, with Bryce and Maggie together on the back line and Tayah in a central midfielder spot. For the season, each of the sisters started at least 15 of the team's 18 matches while all logging more than 1,100 minutes on the pitch.
"The coolest feeling for me in the season-opener against Prairie View was when I got to hear me and my sisters' names called for the starting lineup," Bryce added. Tayah, meanwhile, was thinking about their father back home in Utah, saying, "When us three were standing on the field for the starting lineup, I just kept thinking about how stoked my dad was going to be to see us play! He was probably more excited than we were to see us all going to play at the same university!"
Along with the Reynolds sisters, HBU boasts three other pairs of siblings who will be suiting up together for the Huskies during the 2020-21 year. The HBU football team has brothers Ethan and Ean Beek along with Jerreth and Josh Sterns. On the hardwood, meanwhile, Anna and Enya Maguire will both be playing for the women's basketball team.