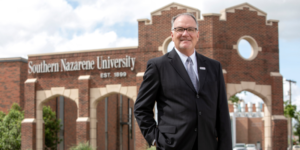 I grew up in Houston and graduated from Northbrook High School in Spring Branch ISD. I went to HBU, and then after my freshman year of college, I joined the Houston Police Department. After a few years, I returned to HBU and double-majored in History and Christianity. I graduated in 1986. My wife, Carolyn, also graduated from HBU.
I knew I wanted the integration of faith and learning for my higher education experience and HBU offered that to me. It also  served me well as a commuter student. I found the faculty to be caring and concerned about my educational pursuits and for me as a person. I have fond memories of Drs. Collins, Boyd, Tucker, Taylor, and others who invested in me. Most of my journey was as a working adult with a crazy schedule, but I found HBU to be a place that was pursuing excellence and encouraging my growth academically as well as spiritually. I still have great memories of chapels and convocations and I have never had anything but gratitude for HBU.
Since my start as a Husky, I've had three careers: nine years with the City of Houston PD in the radio, patrol, juvenile, and homicide divisions; 17 years as a pastor in the Church of the Nazarene; and 17 years in Christ-centered education. Assignments included Vice President for University Relations at Mount Vernon Nazarene University and Chancellor for Indiana Wesleyan University – Marian, prior to my current assignment at Southern Nazarene University (SNU).
After earning my bachelor's, I eventually went on to earn a master's from Southern Nazarene University and a Doctorate in Higher Education Leadership from Spalding University. I was elected as the 15th president of SNU in March 2017 and assumed the office in August 2017. Just outside of Oklahoma City in Bethany, SNU has a rich, 122-year history of Christian higher education. SNU offers 45 degrees on the residential campus and a Professional and Graduate Studies program with on-campus and online options. SNU serves 2,200 students.
Carolyn and I have been married for almost 39 years and we have two married children, Andy and Alana, as well as two grandchildren, Avery and Baylin. My wife and I were first-generation college students; our children have both graduated from Christ-centered universities and also earned master's degrees. We've been privileged to live in a number of states (Texas, Arkansas, California, Ohio, Indiana, and now Oklahoma), and I've traveled to all 50 states and 27 countries.
In 2018, I published "LiveLast" based on the words of Jesus in Mark 9:35. The book share the message that true success comes through serving others. Jesus defined it for the disciples and for us in Mark 9:35 when he instructed us to choose last place and put others first. It was countercultural then and now. At SNU, we like to call it "LiveLast leadership."
If success is service, and I believe it is, then any success I have experienced has been the fruit of what was modeled for me by my mother, by people I went to church with, by professors and staff members, and by the colleagues I have been blessed to serve with over the years. As a first-generation college student who grew up as the oldest child in a single-parent family, I never dreamed that I would have the opportunities afforded me. Truly it has been an Ephesians 3:20 kind of life for me. I am grateful!
I am very thankful for the way HBU has maintained its commitment to a historic mission of providing a Christ-centered educational experience. I was privileged to serve with HBU President Emeritus Dr. Edward Hodo on a board and loved his wisdom and example. Dr. Robert Sloan has helped take HBU to new heights and I am cheering the University on. Galatians 6:9 is my prayer for HBU!