Legal Studies major and Spanish minor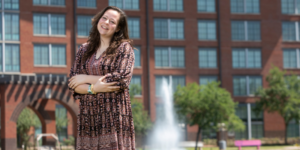 I grew up in Katy, Texas and I graduated from Classical Conversations (a homeschool co-op) in 2018. I also took dual credit courses at The HBU Academy and The Saint Constantine School.
I have a really amazing family. My brother Dylan will actually be attending HBU as a freshman next year, so I'm super excited for him to be here. My parents are wonderful, supportive people.
I am studying law to work as a lawyer for an organization that helps victims of human trafficking. My dream job is to work as general counsel for International Justice Mission. After a long law career, I'd love to either run for a local office or go back to school and get a doctorate in English or philosophy.
When deciding where to go for my college experience, I was looking for an institution in which I could have a classical education with lots of discussions, and a strong Christian community, both of which I've been able to find at HBU. The education through great texts that I've been able to receive through the Honors College at HBU is unlike any other program I considered elsewhere.
I learned pretty quickly that attending HBU didn't mean I could stop actively pursuing Christ. Once I got into Kaleo Discipleship, met my mentor Josie, found an amazing church community in Houston, and developed relationships with strong Christian friends, I began to grow in my faith again.
As a college student, I've been really surprised by all the opportunities I've had here. The summer of my freshmen year, I traveled to Spain for a month to study Spanish for my minor. The entire experience feels so surreal to me; I never imagined that I would have that kind of opportunity in my undergrad, and especially not as a freshman! Since then, I've had the opportunity to travel to Israel with Passages, attend amazing networking events, and intern for Texas Right to Life, all because of opportunities and connections I've had through HBU.
I am involved with Residence Life. I've been an RA on campus for two years, and I will be coming back next fall for a third. I am involved with Passages through HBU. I have been to Israel, I work as a brand ambassador for Passages at HBU, and I've been hired to be a fellow with Passages to return to Israel (pending placement once they resume trips). I am an Honors College scholar, finishing up my third and final year of Honors. And finally, I am involved with Kaleo Discipleship.
During this time in my life, there are three things that have been most important to me: my relationship with God, of course, and how it continues to develop during my time at HBU; my time in academia and the opportunities I have had to read and discuss great works of literature; and of course, the strong friendships that I've been able to develop, which I believe will last me a lifetime.