Higher education provides a unique opportunity to shape the knowledge and wisdom of students for the trajectory of their lives. Professors carry out the noble occupation of preparing learners for careers and personal lives filled with purpose and success. Each year, the HBU Colleges and Schools select their Piper Professor Nominee. These individuals represent the very best in teaching and professional development in each college. Nominees are recognized for their effectiveness in the classroom, their work with students in advising and mentoring, their dedication to teaching, admiration and respect from their colleagues, scholarship in their field, and contributions to the University. Congratulations to the HBU 2020-2021 Piper Nominees!
Congratulations to HBU's 2020-2021 University Piper Professor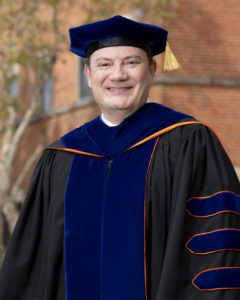 Dr. Greggory Keiffer has been named HBU's University Piper Professor for the 2020-2021 academic year. Dr. Keiffer, Assistant Professor of Management, joined the Archie W. Dunham College of Business faculty in 2017 and teaches in both graduate and undergraduate degree programs. He specializes in human resource development, organization development and change disciplines. Areas of teaching include compensation and benefits, staffing and performance management, training and development, organization development and change, and social media marketing. He greatly enjoyed leading groups of graduate business students on two international management experiences, one to the Czech Republic and Austria and the second to Costa Rica and Panama. His research interests encompass gamification, generational cohorts, employee engagement, and quantitative analytical methodologies, including propensity score analysis. Dr. Keiffer has published several journal articles and has delivered 15 academic conference presentations since 2016. Current research collaborations include evaluating the measurement invariance of quantitative survey responses between generational cohorts in the hospitality industry and developing analytical methods to ascertain partial measurement invariance when noninvariance is first found. Dr. Keiffer currently serves as the Interim Dean for the Dunham College of Business, supporting fellow faculty members in their work to advance the mission of the University. Before his tenure at HBU, Dr. Keiffer enjoyed a 21-year corporate career in the marketing and advertising industry working with several of the premier brands in the world. Dr. Keiffer earned a BBA in management and computer information systems management from HBU, an MBA from HBU, and a PhD in human resource development with a specialization in organization development and change from The University of Texas at Tyler. After two decades in a corporate career, Dr. Keiffer realized he could make a greater impact on young, future business leaders by teaching them in a college setting rather than developing them after they landed in a corporate setting. "It was risky for me to entertain leaving an established and safe corporate career. With the support of my wife and family, we made the sacrifices necessary for me to reinvent myself educationally through a doctoral program in the human resource development discipline. This discipline is concerned with enhancing organizational effectiveness through formal and informal initiatives at all levels of an organization, including the development of employees. The blend of corporate experiences, studies in an academic discipline concerned with developing employees, and parental perspective, allows me to offer students a unique worldview. My teaching goals are for students to realize they gained significant knowledge, had challenging opportunities for mindset growth and had an educational experience with someone who truly cares about their personal journey."
HBU Celebrates the 2020-2021 Piper Professor Nominees
School of Christian Thought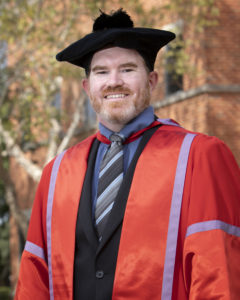 Dr. Jason Maston, Associate Professor of Theology, has been teaching at the university level for 10 years. He began his career in Scotland and joined the faculty at HBU in 2015. He has also been an invited lecturer in Australia. His primary teaching area is the New Testament. Recently, he has also ventured into theology and church history. In his classes, he strives to develop independent students who are capable of drawing from Scripture and church history to address contemporary questions. Dr. Maston's research focuses on the New Testament with particular interests in the Second Temple Jewish context, the relationship of Judaism and Christianity, and Christology and anthropology. He has written or edited several books and his articles appear in some of the top international New Testament and theology journals. He has coedited the popular textbooks "Reading in Context" (published by Zondervan) that are used in classrooms across the US; one of which has been translated into Korean. He is on the editorial board of the journal, Religious Studies Review, and is associate editor for a 19-volume series on New Testament Theology to be published by Cambridge University Press.
College of Education and Behavioral Sciences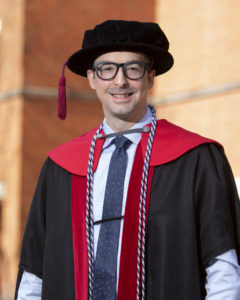 Dr. Joseph Pelletier, Associate Professor of Psychology, began his teaching career at California Baptist University shortly after completing his doctorate. Due to his commitment to his students and involvement in countless organizations and events, he was a Professor of the Year finalist for three years in a row. Upon arriving at HBU, he immediately became involved with Student Success and Psi Chi, the national honor society for psychology. While at HBU, he has served as chair and committee member on dozens of thesis and dissertation committees in both the MAP and EdD programs. As a first-generation student, Dr. Pelletier is a member of TRiO and has been a speaker at organizational events. Also a member of Kaleo, Dr. Pelletier embraces the call of discipleship for both students and faculty. During his four years at HBU, he has published over a dozen articles and conference presentations including several collaborative projects with graduate students. Dr. Pelletier's recent research has examined contemporary social issues including gun control, media violence, and the COVID-19 pandemic. Through his research, Dr. Pelletier brings an unapologetically Christian perspective to fields of study that are often hostile to such viewpoints. Additionally, Dr. Pelletier currently serves as Chair of the Department of Psychology and Interim Chair of the Counseling Department. Dr. Pelletier's teaching incorporates a strong Christian worldview while still being grounded in empirical science. He prides himself on bringing a diversity of perspectives into the classroom and encouraging students to think critically without being judgmental. Dr. Pelletier has been a Goolsby Professor Award finalist for the last two years. He views education as the lifelong pursuit of God's truth, a perspective that characterizes his teaching and interactions with students.
School of Fine Arts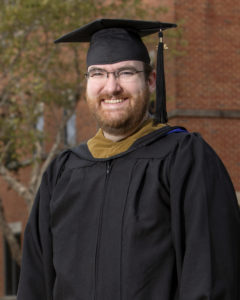 Prof. Joshua Sikora, Associate Professor of Cinema and New Media Arts, joined HBU in 2013 as the founder and director of the Cinema & New Media Arts program, which has grown to now encompass five degree programs at the undergraduate and graduate levels, including the recently launched MFA in Screenwriting. Strategically building upon HBU's robust fine arts programs and liberal arts traditions, Professor Sikora's vision for the Cinema & New Media Arts curriculum has always been to immerse students in a rich heritage of art and storytelling while pointing them toward groundbreaking new opportunities in multimedia creation. More than merely technical preparation for a job, he sees this as a way of fostering in students a deep understanding of creativity, communication, and collaboration—skills to be leveraged in any field students may find themselves in, especially as technology and business continue to evolve in the 21st century. In and out of the classroom, Dr. Sikora is dedicated to mentoring students not just in their craft or career, but in an eternal pursuit of goodness, truth, and beauty. Committed to lifelong learning, Dr. Sikora models for his students a humility and passion to continually grow through his own artistic endeavors and scholarship. He has contributed as an editor and contributor to the Critical Companions to Contemporary Directors series published by Lexington Books, with a research focus on the work of Terrence Malick, George Lucas, Andrei Tarkovsky, and Hayao Miyazaki. Prior to joining HBU, he also founded a new media production company, through which he has helped independent filmmakers craft television series, web series, and feature films for the past 15 years. He most recently produced the award-winning short film, The Way That I Take (2020), written and directed by HBU colleague Chris Hartwell and featuring a crew of HBU Cinema & New Media Arts alumni.
School of Humanities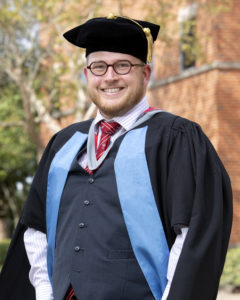 Dr. David Davis, Associate Professor of History, has taught European history at HBU since 2010. His instruction stretches across HBU's curriculum, from dual-credit courses in the Academy and seminars in the Honors College to graduate courses in the Master of Liberal Arts and the MA in History. He specializes in courses on the Renaissance, the Reformation, and the history of Britain. His research interests include early modern religious belief and practice, late medieval and early modern science, and the history of the book. Dr. Davis' Western Civilization surveys, along with his course on medieval science, are some of the most popular at HBU, which is evidenced by his two Opal Goolsby Outstanding Teaching Award nominations. Along with serving on a variety of University committees, Dr. Davis is a member of the Morris Family Center for Law & Liberty, regularly participating in the Center's lectures and workshops series; he is a regular speaker at local classical schools and historical organizations. Also, Dr. Davis is committed to the advancement of research in his field, as an essential component in developing his skills as a teacher. In 2017, the Royal Historical Society made Dr. Davis a lifetime fellow of their society, recognizing his contributions to the study of history, including his two academic books, Seeing Faith, Printing Pictures and From Icons to Idols, and 20 peer-reviewed articles, chapters, and reviews in top-tier academic journals. His current project, The Culture of Revelation in England, 1400-1700, will be published by Oxford University Press in 2021. Finally, he is a contributor to The Wall Street Journal, The American Conservative, and The New Criterion, where he enjoys writing about a broad range of topics from Hieronymus Bosch and William Shakespeare, to the history of philosophy and his beloved state of Texas.
College of Science and Engineering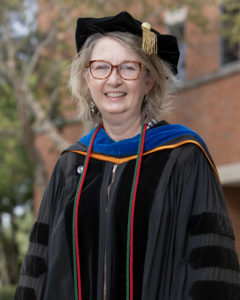 Dr. Brenda Whaley, Professor of Biology, is an alumna of HBU who returned to join the Biology Faculty in 1996. Dr. Whaley is a recipient of a $10,000 grant from the Avantor Foundation which funds the undergraduate research of the students she mentors in C. elegans, a microscopic worm that lives in the soil in the Houston area. Her research students comment that she provides the right balance of guidance and autonomy which allows students to develop new lab skills and practice their own data analysis and critical thinking. Dr. Whaley has enjoyed serving the University in the role of the SACSCOC Administrative Assessment Officer since 2010. More recently she chaired the QEP Development Committee which produced plans for HBU's upcoming Quality Enhancement Plan entitled "Mission Metacognition." In addition, Dr. Whaley works with her husband to lead a small group in her church. Her awards include HBU Faculty Woman of the Year, the HBU Opal Goolsby Excellence in Teaching Award, the Christa McAuliffe In Search of Excellence Award from the Houston West Chamber of Commerce, and Best of COSE Dean's Award. Dr. Whaley was named HBU's University Piper Professor in 2003 and 2004.