Psychology major and Studio Art minor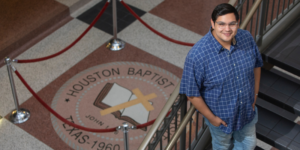 I grew up in Spring, Texas and graduated from Spring High School in 2017. My parents and older sister have always encouraged me to be myself and to work hard for what I believe in. They have helped raise me into someone who loves to serve and help others.
My goal is to obtain my Master's in Clinical Mental Health Counseling and work with children and adolescents on achieving their life goals and living with mental illness while living up to their full potential.
When looking at colleges, I wanted a school that I believed had the best education and also was the most affordable. HBU offered me a scholarship that not many schools offer. After attending the Gen1 Summer Bridge, I met so many amazing faculty and staff that welcomed me and made me feel at home. It was something that I had never experienced before and instantly fell in love with the community aspect of HBU. Wonderful professors and mentors helped me transition into HBU and be successful.
I serve as the Student Government Association President where I work to serve the student body by making their voice heard on campus. I served as the First-Year Experience Intern where I worked closely with planning Welcome Days, hiring and training the Peer Mentor team, and overseeing the Freshman Council. Over the summer I was a mentor for the Summer Launch program. I am also a part of the Student Foundation, an officer for the Hispanic Student Organization and the Christians for Israel Association. I am also on various student and faculty/staff committees. Aside from leadership, I work part-time in the University Bookstore and in the Academic Success Center for Tutoring in Psychology, Art, English, and History courses.
God has given me the amazing opportunity of serving in so many ways and has been my guide throughout my college journey. It is good to know that God always has a plan for me and is being revealed to me every day. My faith has been the foundation of who I have become throughout my college experience. Being able to pour back into a campus that poured into me is something so amazing; God has used HBU as a place for spiritual development and Christian community.
I have been blessed with many opportunities and challenges at HBU that have helped shape who I am today as a graduating senior. I've learned that failure doesn't mean the end, but rather it means an opportunity for growth toward bettering yourself and learning new ways to be successful. If there is one thing I learned throughout my time at HBU it's that being adaptable is key. Whether it was beginning my freshman year with a hurricane, or ending my senior year in a pandemic, I know that God was there with and me brought me all the way. He will be there as I continue on after undergrad. I never thought I would have been challenged and encouraged to grow in many areas such as professionally, academically, in leadership, and spiritually. HBU has been a place that has changed my life.