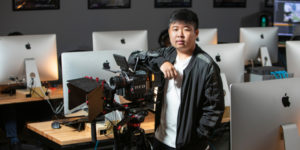 I was born in Guelph, which is a small city in Ontario, Canada, and I was raised in Houston and attended John Foster Dulles High School. I live with both of my parents and I have an older brother who is a neurosurgeon. My family is very supportive of my decisions. They've helped me get to where I am today, and I am very grateful for that.
My career goal in life is to either become a director or a professional video editor. My personal goals in life are to share my faith with others, give back to my parents, and to have a healthy family.
When searching for colleges, I was looking for a small Christian college. From many offers that I've received, Houston Baptist University looked to be the perfect college for me. I was born with an autoinflammatory disease with a periodic fever, so doctors said that I wouldn't be able to graduate high school. I graduated high school with a 3.7 GPA, but then doctors said that I wouldn't be able to attend and make it through college. Here I am, nearly done with my second year. In overcoming that challenge and attending college, I found out who I truly was as a person.
Something that has surprised me about college is all the amazing and genuine friendships that I have made so far. Friends are like family to me, and HBU has helped me make memorable friendships. I am currently a Commuter Assistant, and next year, I will be a Resident Assistant. I am also involved with Young Life and I am the Historian for the Table Tennis Club here at HBU.
Faith has a very important role in my life. God has our life planned out for us, and all we have to do is take His hand and let Him guide us in the right direction. Whenever I have any problems going on, I always pray to God for guidance and healing.
There are ups and downs in my journey to success, but there is an end. There are relieving moments and scary moments throughout my journey to success. Everything happens for a reason, so instead of giving up, we have to take steps forward. HBU is an amazing university. It has helped me find genuine and lasting friendships, it has helped me discover myself, and it has helped grow my faith.