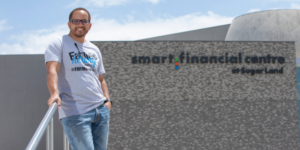 I grew up on the southwest side of Houston and attended Sharpstown High School. During my senior year, the HBU Jazz Band performed at my high school during college recruiting day! After hearing their amazing performance, I knew HBU was the school for me. HBU helped me understand more about Christianity and provided me the tools to strengthen my relationship with Jesus Christ. Music Performance was my first major as an undergrad. I had a goal to go on tour and play with various bands all over the country. I started organizing musical events and making connections to make this goal a reality.
During my time as a student, I created an event called "Praise Jubilee." This concert was held during convocation and was opened to students, faculty and staff. Organizing this event over several years allowed me the great opportunity to share my passion for music and the message of Christ with the HBU family and the city of Houston.
Because of HBU's dual degree program, I selected Business Finance as a second major. I quickly realized that financial planning, sales, and anything that had to do with finance was more than a second major; it was also my second passion. Mr. Richard Parker, the CFO of HBU at the time, became my mentor. He scheduled weekly meetings with me to discuss my progress and my future plans. For one hour each week, we discussed anything and everything that was on my mind. These chats with Mr. Parker became an invaluable contribution to my self-evolution as a young man headed into the real world. I was young and extremely ambitious, looking for guidance on what to do next in life, and he provided just that. Mr. Parker was the big brother I needed, and his support will forever be cherished and honored.
Also, during my time at HBU, I met Martinique "Nikki" Bowman Collins, who has been my devoted wife for 17 years. Shortly after we graduated together in 2005, I worked as a financial analyst and eventually transitioned to the telecommunications industry, where I have enjoyed working for more than 10 years. I am proud of the life that Nikki and I have built together with our talented and intelligent children, Quincy II, 12, and Sydney, 7.
I have always been active in my church, and about seven years ago, a church member's home caught on fire and destroyed everything she owned. Members of the congregation all scrambled to collect the things she was desperately in need of, such as household items, clothing, and a place to live. I came up with the idea to ask all of my musician friends if they would help me provide her family with food. We collected nearly $800, purchased food and other critical items, and delivered them to her family. That was a turning point in my life. It was the moment I realized we have so much to be thankful for, and we owe it to our community to give back. It was at that point we decided to collect donations and provide food to families in need every year. I had discussions with community leaders and police officers in Fort Bend County and learned that there are so many kids who are food insecure and do not have access to adequate meals outside of school. That's when my mission became clear – we need to feed kids and their families during the Thanksgiving holiday! We came up with the idea of delivering a week of groceries to families in need. That mission is what I now call Families Helping Families in Houston, a nonprofit organization that has evolved into something greater and more impactful than I could have ever imagined.
During our second year of operation, we delivered groceries to 20 families. Because my family and I live in Fort Bend County, we asked Fort Bend ISD school counselors and police officers to identify families in need. Building on our success, we desire to make a larger impact each year by collaborating with additional school districts in Houston and the surrounding areas.
As a response to the COVID-19 pandemic and the need to socially distance, our delivery model has adjusted to a drive-through pick-up event. In 2020, the pick-up location was on the Smart Financial Centre parking lot, and volunteers loaded cars with groceries. We were able to provide groceries to 300 families last year. In 2021, our goal is to serve 3,000 families. Without volunteers, donors, and my FHF team, none of this would be possible. I am beyond grateful for their support.
One of my favorite memories as a kid was when my grandparents would take me to feed the homeless in downtown Houston. During the cold winter months, they would make homemade beef stew and pass it out to people on the street. My grandparents are the reason why I do what I do. With limited money and resources, they instilled in me the importance of giving back, not by their words, but by their actions. I saw firsthand the true meaning of doing Jesus' work. I take their priceless teachings and use them to build a foundation and legacy for my children. We are beyond blessed and have much to offer those of all faiths, races, and cultures.
Please visit fhfhouston.com to learn more, to donate, or to volunteer.