The mission of Houston Baptist University is to provide a learning experience that instills in students a passion for academic, spiritual, and professional excellence as a result of our central confession, "Jesus Christ is Lord."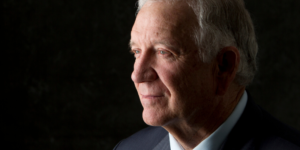 HBU is a transformative place. As the years go by, we hear more and more testimonies from students and alumni as to how the University has changed their lives.  All kinds of factors are involved in these stories of transformation – the Christian commitment of HBU, the friendships begun and nurtured here, the opportunity for close relationships with faculty and staff, memorable experiences in student life, discovering your interests, passions, and calling, and also finding your future spouse.
All of these factors contribute richly to the University's power to change a life for the good.
These basic commitments of HBU grow more significant and distinctive, it is sad to note, as or culture continues to become more secular.
We offer experiences here that are increasingly in short supply.  Whereas some universities use their orientation programs to separate students from their families, churches, moral traditions, and upbringing, we are committed to reinforcing the Christian faith and the values that families traditionally teach. Many universities now promote a "cancel culture" that finds only fault with the past—tragically forgetting that all of us are flawed human beings in need of forgiveness.  HBU, however, promotes not only learning about history but learning from history, having both the courage to face and critique what's gone before us and the humility to learn from it without assuming that the world starts over with us.
Many universities now greatly limit free speech, the role of faith, and the open exchange of ideas. HBU, on the other hand, is committed to the truth-to pursuing it and learning it though tolerance discussion and listening to one another.  We are committed to humble and courageous transparency, believing that freedom of expression and the interchange of ideas can enable all of us to learn, grown, and become better individuals, family members, and citizens of our communities and the kingdom of God.
When our alumni get together, it is always inspiring to hear their stories, just as you will be inspired by reading accounts of changed lives in this edition of The Pillars. It's not surprising that so much transformation happens at HBU, because it is one of those special places where the power of the gospel come together in a unique synergy to change lives for the good.