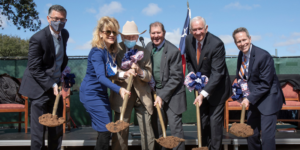 The Morris Family Center for Law & Liberty Complex construction is underway! Give to help complete the project and to further the work of the Center at HBU via Additional Giving Options.
As students move between classes, it's not unusual to see them looking down at their phones, catching up on texts and social media. Dr. Chris Hammons, Professor of Political Science and Director of the Morris Family Center for Law & Liberty, hopes to make them look around with a new sense of wonder.
On March 2, HBU broke ground on the latest addition to its campus. The classroom building will be used to teach history, government, law, economics, and philosophy. The future complex is made possible by a leadership gift from one of the University's founding fathers, Dr. Stewart Morris Sr., and his family. Morris recently celebrated his 101st birthday. He is a veteran of the Second World War and helped start the University in the 1960s. American history was always a passion for Morris, his late wife, Joella, and their children, Carlotta, Lisa, and Stewart Jr. One of the classrooms attached to the main building will be dedicated to teaching economics and the principles of free enterprise, also important to the family.
Dr. Robert Sloan, HBU President, said the ideals the building will represent are especially necessary. "The first freedoms are so critical, not only to American culture but are absolutely critical to a Christian university," he said.
Dr. Morris said, "It's important that our young people learn why our nation's founders created the government we have today. If you want to make it last, you have to understand where it came from and how it works."
Hammons hopes the new classroom building – modeled after Independence Hall in Philadelphia – will inspire a new generation of students to ask important questions. "What kind of people do we want to be? What kind of nation do we want to live in? These are foundational questions worth asking," said Hammons, who has taught at HBU for more than 20 years. "We see an increasing number of students who come to us without any real understanding of our nation's history or founding principles. They often have little interest in the democratic process."
The Morris Family Center for Law & Liberty is dedicated to teaching HBU students and fellow Texans about the importance of our nation's history and founding principles. The Center offers student seminars, faculty lectures, and teacher workshops throughout the year. The Center has also taken students on class trips to Boston, Colonial Williamsburg, Jamestown, and the Alamo. Most events in the recent academic year were postponed due to COVID restrictions.
Dr. Morris was an early supporter of the Morris Family Center's mission and wanted to help create a place to house the Center's academic programs and events. The building will not only look like Independence Hall from the outside, but the first-floor rooms are modeled after the historic spaces where the Declaration of Independence and Constitution were drafted. Students will recreate historic moments in American history such as the debate over independence or the Constitutional Convention.
The new building is an extension of the Morris Family Center's mission. "We wanted to create an environment that would make students feel like they are right there, at the start of our nation, facing some difficult choices," Hammons said. He notes that the building is not a museum, but rather a "teaching theater" that will add a sense of time and place to classroom discussions and lectures. "Whether it's 1776 or 2021, the questions we face as a nation are largely the same. We can learn a great deal from the past," he said.
The impact of the new facility will extend beyond the HBU campus. Dr. Hammons said the Morris Family Center will continue with its teacher workshops and public lectures, but also plans to create curriculum for fifth-graders (the state mandates that they study the American Revolution). "We have some great things planned for use of this building, and I can see Independence Hall at HBU becoming an educational field trip destination for school kids across the state," Hammons said.
Hammons says that college students today often question our nation's past and even the concept of patriotism. He hopes the new building will inspire them to reconsider some of the information they have been given.
"Within the rooms of this building we will ask tough questions – questions about what it means to be a nation truly dedicated to liberty and justice for all and what role our Constitution plays in that effort," he said. Most importantly, he hopes students realize that our representative republic  requires them to look up from their current distractions and pay close attention to what's going on around them. "Hopefully if they are still on their phones by the time they get to this new building," Hammons joked, "it will be to take a selfie for their friends and family with the 'Independence Hall' complex as the backdrop!"