By Russ Reneau
HBU fielded its first program when it suited up a men's basketball team for NAIA at-large competition for the 1963-64 season. Since then, the Huskies have added programs, lost programs, reclassified – four times – and changed conferences on more than a few occasions. Today, HBU fields 17 NCAA Division I sports programs, competing in the Southland Conference full-time since 2014, as well as the Western Athletic Conference in men's soccer since 2013.
The history is certainly interesting and definitely worth celebrating as the University turns 60. Much of the credit goes to the leadership that understood the importance of athletics in building school spirit and camaraderie.
"HBU Athletics has been fortunate to have three presidents (Dr. William Hinton, Dr. Doug Hodo and Dr. Robert Sloan), all of which were tremendously supportive of athletics and what it could mean to the University," Ron Cottrell, Associate Athletic Director and James Sears Bryant Head Men's Basketball Coach, said. "We've had administration that, from the very beginning, were unbelievably supportive and allowed for athletics to be what it is today. It's grown, molded, changed and found different ways, but it's never been less important with any of our steps along the way."
"Dr. Sloan, having come from Baylor, where they were in the midst of big-time college athletics, certainly understands the value of having an athletic department that is representative of your university and can get the name of your university out there on a wider basis – getting publicity that you couldn't possibly buy," Director of Athletics Steve Moniaci said. "Of all the presidents I've worked with over the years, obviously, he's far and away the most supportive of athletics and understands Division I athletics, more over than anybody I've ever come across in a president's role. If he wanted to be a Division I athletic director, he would be an absolutely great one, and there would be no learning curve. You can't say that about most college presidents."
The Early Years
Men's basketball was the only varsity program at first, with others competing at the club level. Dr. Ed Billings was the athletic director at HBU from 1966-90, providing stability as times continued to change. The Huskies reclassified from NAIA to NCAA Division II for the 1967-68 season under Gerald Myers, who would go on to have success as both a head coach and athletic director at Texas Tech. Then, HBU made the jump to NCAA Division I for the 1973-74 campaign.
HBU had some exciting players during the early days, including Eddie Brown, who remains the school's all-time leading scorer. Brown was inducted into the Hall of Honor and has since been joined by teammates Jim Skaggs, brothers E.C. and Mack Coleman, and Robert Paige, who would go on to be drafted to the NBA by the Golden State Warriors and enjoy a long career as a Harlem Globetrotter.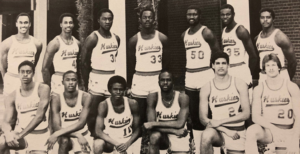 The program had not experienced much team success until a young Gene Iba came to town. The son of longtime Tulsa head coach Clarence Iba and nephew of legendary Oklahoma State and U.S. Olympic head coach Henry Iba made his own mark when he led the Huskies to the 1980-81 Trans America Athletic Conference (TAAC) regular-season title.
Three years later, HBU would be put on the national map by winning its second TAAC regular-season title, then finishing the job it had started by also claiming the conference tournament championship and advancing to the school's first-ever NCAA Tournament appearance. The 1983-84 Huskies squad was led by HBU Sports Hall of Honor inductees Anicet Lavodrama, Boone Almanza, Terry Hairston, Matt England and Fred Goporo, then the entire team was inducted in 2014.
Around that same time, a lad from Scotland named Colin Montgomerie found his way to the HBU men's golf team. He would lead the Huskies to three-straight TAAC Championships and the first three of five-straight NCAA Championship berths. Montgomerie would go on to become one of the most decorated European professional golfers in history and PGA Hall of Famer, who is still competitive on the PGA Champions Tour today.
"Back in the 80s, from my seat at Rice, we thought of HBU as, in many cases, better athletically than we were, with the exception of not having football (at the time)," Moniaci, who previously spent 26 years as Senior Associate Athletic Director at Rice University, said. "There were many years HBU's basketball team was better than Rice's, the track team was on par and the tennis team was competitive. The baseball team always gave Rice a good game every time they played. From the gymnastics standpoint, HBU was national caliber and the golf team was much better than Rice's. In a number of areas, they were much more competitive than we were there, and when you thought of HBU, you thought of its athletic department. Living in Houston, I didn't know much about HBU other than their athletic prowess and success in several sports."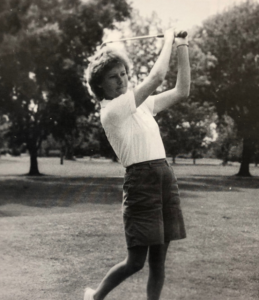 The men's golf program was the second sport on the scene, as it began competition in 1966, followed by the women's golf program in 1973. In the early days, Bob Seligman earned two berths to the NCAA Championship (1971 and 1974), then Ken Kelley earned a berth and finished sixth at the 1982 NCAA Championship. Sherry Donovan, Stephanie Farwig and Debbie Skelly were the core leaders of six-straight AIWA National Championship appearances from 1976-81 on the women's side. Caroline Pierce became the first female to qualify for an NCAA Championship in 1984, turning in an 18th-place showing.
During the 1980s, HBU sponsored 10 varsity sports. Men's soccer began competing in 1979 and was led to back-to-back TAAC championships in 1984 and 1985 by All-Americans Carlos Gil and Jorge Cruz. HBU had very successful men's and women's gymnastics programs that began competing in 1977, the men's tennis program competed from 1977 to 1989 and the women's tennis program competed from 1979 to 1986.
The Huskies' track program provided one of the school's all-time memorable performances as Ricky Thompson won the high jump at the 1983 NCAA Championships, becoming HBU's first national champion.
The men's gymnastics team had several All-Americans, including Paul O'Neill, who won the national championship in the rings in 1987. HBU was one of the top programs in the country, achieving a No. 1 ranking in 1988, but NCAA rules violations eventually led to the dissolution of the program. The women were also very successful, with the 1990 team claiming a Division II national championship and the entire team being inducted with the inaugural Hall of Honor class in 1997.
Following the NCAA rules violations, the athletic department took a year hiatus from varsity competition, then rebooted and returned as an NAIA program in 1991. When the Huskies returned to play, they fielded four programs – men's basketball, baseball, softball and volleyball.
The NAIA Days
Cottrell began the rebuild of the men's basketball program with the 1991-92 season, then would also serve as athletic director from 1994-2009. He is now the fifth-longest tenured among active head coaches in NCAA Division I basketball as he embarks on his 30th season this winter, and is HBU's all-time winningest basketball coach with 491 career victories.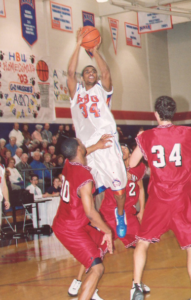 "I was grateful to have the opportunity to be part of the program – I was young and excited to be a head coach and to be back to what I considered to be my home growing up," Cottrell said. "To be at a faith-based school that really agreed that what we could do off the court mattered as much as what we could do on the court was big for me. To see us kind of restructure the department and bring sports back slowly and establish our name at the NAIA and become national powers at that level in all the sports that we had was tremendous.
"We were a small department at the time, but we slowly grew it; the support we had to be able to be successful at that level was great. Our coaching staffs were all very, very close. We were all young, working together and making a way for our sports, so that was a lot of fun. I'm very happy to see where we were able to take it from when I first came to when we made the step to Division I."
After the first two campaigns, Cottrell guided HBU to 14-straight winning seasons, 11 20-win seasons, two 30-win seasons, and coached 15 All-Americans. The Huskies won the first of nine-straight Red River Athletic Conference (RRAC) championships in 1998 and advanced to the NAIA National Tournament. HBU had its best season in 2002-03, as Cottrell was named the national coach of the year. Led by national player of the year Rod Nealy, who averaged 28.9 points per game, the Huskies went 31-3 and were ranked No. 1 in the country, before being upset at the NAIA National Tournament.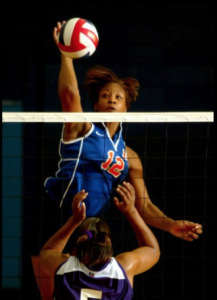 Volleyball also had a tremendous run in the RRAC, winning nine-straight titles, including eight undefeated conference seasons, and garnered eight individual All-America honors. In 2002, the Huskies went 47-3 overall and advanced to the NAIA National Championship match, finishing the campaign ranked second in the nation. Husky alumna and Hall of Honor inductee Kaddie Mahoney Platt was the head coach from 1995-2011 and posted 499 career wins.
Softball has been led by head coach Mary-Ellen Hall since 1992. She enters her 30th season in the spring and is HBU's all-time winningest coach, in any sport, with 817 career victories. She led the Huskies to nine-straight RRAC titles from 1999-2007. Laura Hess was named the national pitcher of the year in 2004 and was one of 18 All-Americans during that era.
Baseball won nine RRAC championships between 1998 and 2007 and had 25 All-America selections. Former HBU catcher and Hall of Honor inductee Jared Moon has been at the helm of the program since 2006, heading into his 16th season this spring, and is HBU's all-time winningest baseball coach with 387 victories. Moon led the Huskies to an appearance at the 2007 NAIA World Series, just prior to the move to NCAA Division I.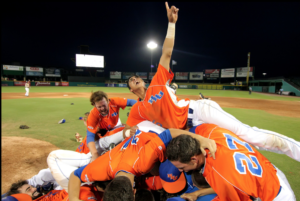 Women's basketball was added for the 1999-2000 season and experienced immediate success with a 25-9 record and the first of seven-straight RRAC titles. The Huskies had eight players earn all-America honors during the NAIA era. Additionally, two-sport standout in women's basketball and volleyball, Elinor Smith, and men's basketball's Charles Fordjour were inducted into the inaugural RRAC Hall of Fame in 2020.
"When I got here, they were tremendously successful at the NAIA level and I think that helped with the transition," Moniaci said. "There was an expectation of winning and all of our sports were fully scholarshipped. It wasn't like we were going from Division III, we had people who dealt with scholarships and knew how to give scholarships – all of that was in place.
"The biggest initial hurdle was starting the necessary number of sports and, unfortunately, bringing a lawsuit against the NCAA to get them to uphold what it had written in its handbook. Once we got over the hurdle of meeting the minimum number of sports to meet NCAA standards for Division I, then it became a matter of putting in the correct processes that you have to be a Division I athletic department and follow all of the rules. As I told Dr. Sloan when we first visited about this, is the two areas that can get you in trouble are either in your medical area or rules compliance, and so we agreed we would have to be well-staffed in those two areas. One of the main reasons we do what we do is to create a positive image for the University, so you don't want to take any risks in generating negative publicity."
Return to the NCAA
With HBU moving back to NCAA Division I competition, came the return of the men's and women's soccer programs in 2006, followed by the men's and women's golf programs and the men's and women's cross country and track and field programs in 2007. The Huskies competed in the Great West Conference from 2007-2013.
"I thought it was great for us to be in the Great West, because it gave us the ability to play for a championship, even when we were going through the transition and also helped get our name out nationally – we were playing in New Jersey, we were playing in Utah, we were playing in Chicago, we were playing all over the country, so the HBU name was being taken into homes in places where we had not been otherwise," Cottrell said. "I think that helped all of our recruiting. All of us benefitted from that and the name got out there quicker than it would have if we had just jumped right into the Southland right off the bat. Then, I think the right move was made to get us into a regional conference, where we could develop rivalries with the schools that are in Texas and Louisiana, so I think that's been important for us as well."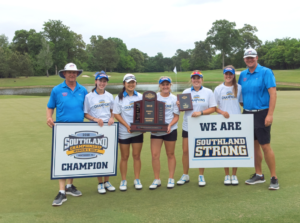 While in the Great West, the men's golf team won the first team championship in 2009. The women's golf team then won four-straight championships from 2010 to 2013, with Gaia Olcese claiming the individual title in 2010 and Kelsey Lou-Hing winning in both 2011 and 2013. Women's soccer claimed a conference title in 2010, with softball following with a championship in the spring of 2011. Volleyball won a share of the GWC regular-season title in current head coach Trent Herman's first year at the helm of the program in 2012. The men's golf program moved to the America Sky Conference and won the league's championship in 2013 to advance to the NCAA Championship, the first postseason appearance by an HBU program since 1988. Baseball won the last-ever championship the Great West held in 2013, before the league dissolved.
Steve Moniaci became the athletic director in 2009, continuing HBU's transition back to NCAA Division I, but would soon lead the Huskies into a new era.
"Entering the Southland, from the beginning, was probably our goal being right in the middle of the footprint of the conference," Moniaci said. "Having the ability to get in was huge and it was just as significant that they told us they would not take us without adding football.
"As I've said all along, if you are a university in Texas, in Houston, and you are not playing football at some level, people want to know why. If you're not playing football, you're not going to be in much of the 'water cooler' conversations in the office on Monday morning and that's important for the visibility of the University. While it's taken us a while to get to the level of competitiveness that we would have liked to see on day one, I think we're there now, and I think every one of our sports is competitive within our conference and has a chance of winning a conference championship."
When HBU joined the Southland Conference in 2013, football was added and officially began competing in the league in 2014. Men's soccer also moved to the Western Athletic Conference in 2013. Beach volleyball, now HBU's 17th program, began competing in 2016 and the Southland Conference added the sport to its championship lineup in 2020, although its first championship was canceled due to the COVID-19 pandemic.
Women's soccer knocked off top-seeded Stephen F. Austin, behind the goalkeeping of Tournament MVP Patty Walrath, to claim HBU's first-ever Southland Conference team championship and advance to the NCAA Tournament in 2014. The Huskies then added a second title in 2016, with Allison Abendschein scoring the lone goal in a 1-0 victory, again over SFA, in the championship match to earn MVP honors.
Baseball set an NCAA record with four complete games by its starting pitchers at a conference tournament to win the 2015 Southland Conference Tournament championship. The Huskies shut out Sam Houston, 6-0, behind the pitching performance of tourney MVP Curtis Jones. HBU came out of the loser's bracket to advance to the conference tournament's championship Saturday in back-to-back seasons in 2017 and 2018. Tyler Depreta-Johnson won the ABCA/Rawlings Gold Glove Award as the nation's best defensive shortstop in 2018.
Women's golf captured back-to-back Southland Conference Championships in 2017 and 2018. Lexi Brooks won the individual title in 2017 and Kaity Cummings won in 2018. With the 2018 title, head coach David Shuster, who has led both the men's and women's programs, won his eighth conference championship since HBU returned to Division I.
In 2019, Denim Rogers finished seventh in the decathlon at the NCAA Outdoor Track & Field Championships to claim All-America honors. In 2020, Kaitlin Smith won the gold medal in the pentathlon at the Southland Conference Indoor Track & Field Championships and Chris Welch entered the NCAA Indoor Track & Field Championships ranked sixth in the nation in the triple jump, before the event was canceled by the COVID-19 pandemic.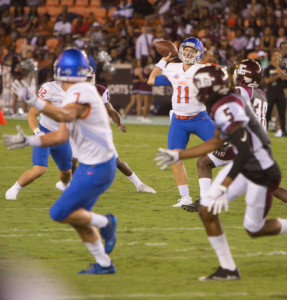 In its short history, the football program has produced three all-Americans, with the late Garrett Dolan earning back-to-back honors in 2016 and 2017 and national sacks leader Andre Walker and Gamar Girdy Brito in 2019. Preseason All-America quarterback Bailey Zappe has set every passing record at HBU and in the shortened, four-game 2020 season, he threw for 1,833 yards, 15 touchdowns, only one interception, and nearly led the Huskies to an upset of Texas Tech. His 458.3 passing yards per game were on pace to set the FCS record.
For all of its success on the field, HBU has also prided itself in standing out academically. HBU won the Southland Conference Academic Award four-straight times from 2016 to 2019. The Huskies have also had 15 CoSIDA Academic All-Americans, the highest academic honor in the nation, with 10 of those since HBU joined the Southland.
"I've been so pleased to be a part of seeing what's has happened at HBU through the years," Cottrell said. "It's tremendous to have seen it as long as I've seen it and see it become what it is today, but knowing all the steps along the way we've been very successful at every level and everywhere and had tremendous student-athletes that have represented our University in a great way."
The history of HBU Athletics continues to be written every day. After enduring an unprecedented shutdown and several of this year's sports moving to the spring, 2020 and 2021 are sure to have their own interesting chapters to add to the Huskies' story.