Since HBU's founding in 1960, the Christian mission of the University has been inseparable from the academic component. HBU Founding Father Dr. Stewart Morris, Sr. said, "I have believed in HBU throughout my life as being a Christian university where students get a great education, and are encouraged to love the Lord and their country."
From the beginning, he wanted to help ensure that HBU was, and would continue to be, a Christian institution where "Jesus Christ is Lord." He said, "Every staff and faculty member has to accept Jesus Christ and believe the Bible. I was so determined to set and keep that standard."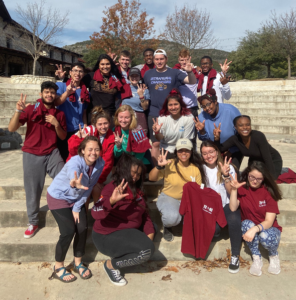 But more than just adherence to the Christian faith, University leadership, faculty and staff have endeavored to create disciples who would live faithfully and share the Gospel with others.
Sammy Ramos '04 is the Founding and Lead Pastor of Cistern Church in southwest Houston. He explains what discipleship means to him: "Discipleship is the intentional process of submitting our lives to the righteous rule and reign of King Jesus. It involves everything from how we think about God to what we do in our everyday lives," he said. "Discipleship includes reading Scripture and great books, but it's so much more. Discipleship really comes to life in the context of community, with brothers and sisters in Christ fully devoted to becoming the people God created us to be."
At HBU, Ramos majored in Christianity and music, and was involved in several student organizations including the Baptist Student Ministry and the Ministry Leadership Council. He remembers staff members like Saleim Kahleh, University Associate Minister, and Colette Cross, Director of HBU Discipleship, along with faculty, who influenced him toward faith as a college student.
"My time at HBU helped solidify a foundation of faith that I had received from my parents and home church growing up," Ramos said. "My faith was not only challenged and strengthened, I was also given numerous opportunities to put my faith into practice."
Shannon Rutherford '03, is now the Director of Baptist Student Ministries for the University of Houston. At HBU, Rutherford was a Christianity and psychology major, was involved in the BSM and other organizations, and served as a chaplain intern. The relationships she formed helped carry her through her own challenges.
"I owe so much of my foundation as a minister to my time at HBU. The education I received was of the highest quality. Professors poured their knowledge and wisdom into my life, and they shaped the way I thought about the world and about God," she said. "Even more than the educational gain, I learned how to be a minister through their constant care and outpouring into my life. During my sophomore year I was diagnosed with cancer. The Lord surrounded me with an amazing community who prayed for me and walked with me through it."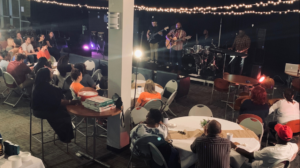 Now Rutherford inspires others. "I have the opportunity to work with an amazing staff and student-led team who are seeking to share the Gospel with and make disciples of the 47,000 students who attend UH. We do that through outreach, Bible studies, worship, discipleship groups, activities and mission trips," she said. "Each day is unique in what we do and who God calls us to meet or invest in. UH is the second-most diverse university in the US, so we get to minister to the world by walking across the street or hosting students at our building. The best part of ministry is seeing college students come to know Jesus and grow in their faith. What was 'entrusted to me' at HBU, I now get to 'entrust to others.'"
For Mark Edworthy '83, the biblical calling to make disciples took him across the world. During his time at HBU, Edworthy was a track athlete, soccer player, cheerleader, and served in several Christian organizations and at church.
"Being at HBU helped me with scriptural foundations, challenged me, and it was a stage in life transition. I learned a lot about leadership," he remembers.
Edworthy and his wife, Susie, went on to earn degrees at Southwest Baptist Theological Seminary in Fort Worth. After serving in a church, they joined the International Mission Board and they and their three young children moved to Poland in 1991. They served in Europe, learning Polish and Czech, planting churches and supporting missionaries.
In 2020, the Edworthys returned to Texas. Mark is working with CityRise as a Network Director and teaches at HBU.
"A disciple is one who patterns his life after his master; you know you are a disciple when you are making disciples," Edworthy said. "Discipleship is not knowledge-based, it is obedience-based.
For Tiffany Charles, HBU Assistant Director of Campus Visits and Events for Undergraduate Recruitment, being a disciple means being a servant. She teaches a women's Bible study at HBU.
"It's not my words or my opinions that impact the lives of others. It's me knowing the Word of God, coupled with my personal experiences in God, that has changed the course of the lives I've encountered in discipleship. It has challenged my prayer life, study life, as well as brought me to another level of accountability," she said. "I love what I do, and I have seen lives changed for the glory of the Lord."
Dr. Leslie Fridge, Assistant Professor in the College of Education and Behavioral Sciences, is in her fifth year of serving as a discipler of undergraduate students. In addition to these relationships, she leads by example in her class.
"In an informal manner, I feel like I disciple all my students through prayer and devotion in each class. I include Christian worldview assignments in the syllabus and I openly talk about my relationship with God and share personal testimony as appropriate," Fridge said. "I like to encourage others to become involved in discipleship opportunities at HBU. Take advantage of the freedom you have to share Christ with others!"