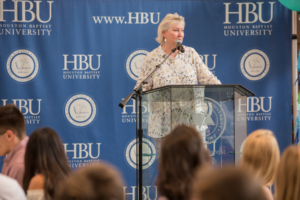 What is the history and mission of Kaleo Discipleship at HBU?
In 2015, HBU began a cross-campus initiative to further integrate the University's mission statement that "Jesus Christ is Lord" into every aspect of campus activity, culture, and process. Through a generous three-year grant given by Terry and Doris Looper, HBU began to focus a large portion of student programming and engagement on personal relationships meant to further enhance student development through a continued focus on helping students understand the purpose of Christ in education and everyday life. This initiative had three elements: a) an updating of the first floor of the Moody Library into a learning commons space designed for student community and spiritual formation; b) providing resources that focused on spiritual formation and vocational spiritual integration for students, faculty and staff; and c) an intentional focus on student spiritual growth as well as leadership development.
What are the programs and activities associated with Kaleo?
Intentional programming support the overarching initiative goals listed above include:
Student Life Retreat is an annual leadership retreat held in August prior to classes designed to prepare student leaders through leadership and discipleship training for the upcoming academic year
Building student and faculty/staff relationships through intentional discipleship one-on-one meetings either weekly or bi-weekly to foster opportunities for growing students in a mature relationship with Jesus who seek to not only know Him but also make Him known
Access to financial resources Funds for discipleship resources, RightNow Media, staff/faculty discipleship development, scholarships to help in discipleship and mission opportunities
Staff development luncheons Monthly meetings for those who disciple with a spiritual development component
Kaleo Meal Cards A resource offered to faculty/staff who disciple students allowing them an opportunity to meet outside of their office over a meal or cup of coffee
Faculty/Staff Bible Studies Bi-monthly Bible studies offered to all faculty/staff
End-of-Year Celebration An opportunity at the conclusion of each year to celebrate what the Lord has done through Kaleo discipleship and share stories of how lives are being changed
Sponsorship of Commuter ministry Free monthly lunches are provided for all commuter students to learn about discipleship
Kaleo Chaplaincy ministry Students can apply to serve as Kaleo Chaplains in the Residence Life area; they are assigned buildings and provided programming and Bible studies that emphasize discipleship
Covenant Fellows This program is to give students who are called to Christian ministry financial and professional support through discipleship and hands-on experience within the context of the local church and/or Christian ministries
How can people support Kaleo Discipleship?
As we celebrate the joys of God's work through Kaleo, we are grateful for the generosity of the Loopers and the Looper Foundation. College is a time when students make decisions that affect their future and eternity. If you are able to share in this celebration of God's work through discipleship on our campus, please go to Give to Kaleo: HC.edu/GiveKaleo
Please know that we are grateful for you.