The mission of Houston Baptist University is to provide a learning experience that instills in students a passion for academic, spiritual and professional excellence as a result of our central confession, "Jesus Christ is Lord."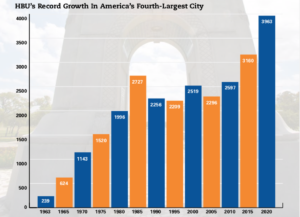 HBU Graduates as of December 2020: 23,102 Alumni
Houston's growth has been consistent for the past century. The city has grown from just over 44,000 people in 1900 to the more than 2 million it is today. The greater Houston area comprises more than 7 million residents!
The Nature of the Institution
The Houston Baptist University is a Christian liberal arts university dedicated to the development of moral character, the enrichment of spiritual lives, and the perpetuation of growth in Christian ideals. Founded under the providence of God and with the conviction that there is a need for a university in this community that will train the minds, develop the moral character and enrich the spiritual lives of all people who may come within the ambit of its influence, HOUSTON BAPTIST UNIVERSITY shall stand as a witness for Jesus Christ expressed directly through its administration, faculty and students. To assure the perpetuation of these basic concepts of its founders, it is resolved that all those who become associated with Houston Baptist University as a trustee, officer, member of the faculty or of the staff, and perform work connected with the educational activities of the University, must believe in the divine inspiration of the Bible, both the Old Testament and New Testament, that man was directly created by God, the virgin birth of Jesus Christ, our Lord and Savior, as the Son of God, that He died for the sins of all men and thereafter arose from the grave, that by repentance and acceptance of and belief in Him, by the grace of God, the individual is saved from eternal damnation and receives eternal life in the presence of God; and it is further resolved that the ultimate teachings in this University shall never be inconsistent with the above principles.
Preamble to the Bylaws of HBU, Amended by the Board of Trustees February 22, 1974