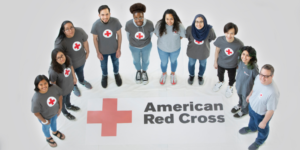 First-generation student Daisy Lopez recalls why she initially chose HBU. "When I was looking for schools, I really liked HBU because of the smaller class sizes. I also enjoyed my time during the tour and meeting with the admissions counselors," she said. "Everyone was really kind to me and that stood out. It appealed to me that it is a Christian university because my faith is an important part of my life. I valued that HBU would allow me to grow in my faith."
Lopez, a biochemistry/molecular biology major, has been involved across campus in numerous ways, including as a TRiO intern; a member of Alpha Epsilon Delta, a pre-health professions organization; and a historian for Tri Beta, a biology honor society.
"I thought it was valuable because I've always really enjoyed being involved and helping others," she said. "Through these organizations, I was able to do that."
Since her freshman year, Lopez has been a member of the HBU chapter of the American Red Cross. Members of the organization participated in projects including smoke alarm distributions, volunteering with Habitat for Humanity, Attack Poverty, medical supply sorting through Project C.U.R.E., and more.
As president, Lopez organized four blood drives in coordination with the Gulf Coast Regional Blood Bank. She estimates the blood given in the drives can help save around 300 lives.
Her experience with the well-known organization will help her in her ultimate goal of becoming a doctor, Lopez said. "As a member of the American Red Cross, members help not only in the greater Houston community, but we help communities in other countries. These experiences allow us to gain more interaction with others and also provide us with more opportunities to be compassionate to people of many backgrounds," she said.
Being involved in extracurricular activities is all about preparing for life after college. Lopez said, "I think it's important to get involved on campus because you're able to gain, not only friendships but leadership experience that you can't attain just from being in the classroom."