HBU's history involves myriad personalities, leaders and contributors who have made HBU the world-class institution it is today. God's sovereignty is evident in those whose influence have taken HBU far. Two family names particularly stand out in the annals of HBU: the Morris and the Smith families. Generosity defines them.
Morris Family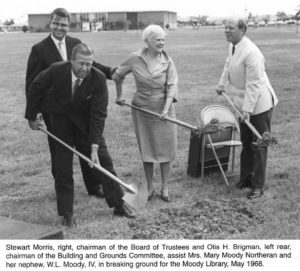 Dr. Stewart Morris, Sr. was key in the establishment of the University when it was still only an idea. The HBU Founding Father helped secure funding in the late 1950s to purchase land for the new institution. His shepherding of the school continued as he helped ensure its guiding principles would honor Jesus Christ as Lord, and as he worked to strengthen and grow the new college.
Dr. Morris and his late wife, Joella, championed the University tirelessly. They served in numerous capacities throughout HBU's history. Their daughters, Carlotta Morris Coffman '68 and Lisa Morris Simon '76, and son, Stewart Morris, Jr., attended HBU.
The Morris name, and the Joella and Stewart Morris Foundation, are represented on the HBU campus in the Morris Columns, the Joella and Stewart Morris Cultural Arts Center and in the Morris section of Husky Stadium.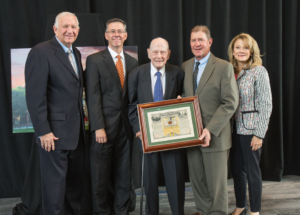 In 2018, Dr. Morris and the Foundation established The Morris Family Center for Law & Liberty. The Center landmark will be modeled after Independence Hall in Philadelphia. The mission of the Morris Family Center for Law & Liberty at Houston Baptist University is to 1) educate all people about the principles that make America an exceptional nation; 2) train and equip teachers, lawyers and the business community to articulate and defend our nation's founding principles; and 3) facilitate civil discourse among diverse groups about politics, public policy and the future of the United States of America.
The Morris family members share fondness for HBU. Carlotta remembers, "I thoroughly enjoyed coming to HBU. There was a niche for somebody like me who wanted to go to a small college and not get lost in the shuffle with a big university."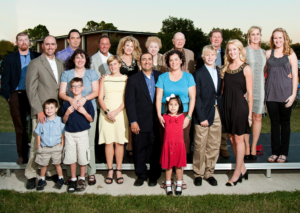 Lisa said, "My father and mother's legacy has been built into the history they've created. It is hard to have a conversation with dad in which HBU does not become the main topic. He is totally committed. He loves HBU and what it stands for."
Dr. Morris recently celebrated his 101st birthday with a traditional celebration at HBU, and continues to be an ardent advocate for the University. His image lives forever on campus through a bronze statue outside of the Morris Cultural Arts Center.