Students have unique journeys to HBU. The University welcomes students of diverse regional, educational and experiential backgrounds. Among HBU's treasured students are veteran and international students, who enrich HBU.
Shannon Bedo, Director of International and Veteran Student Services, directs the office as it serves the needs of these specific student groups. "In my role, my duty is to help international and veteran students; however, many times, they actually minister to me," Bedo said. "They have life and cultural experiences that bring a unique perspective to the classroom and campus life."
The department assists students with needed paperwork including international visas, Department of Veterans Affairs Applications for Benefits, and more. The department works with students to connect them with other HBU departments and with resources to help them succeed.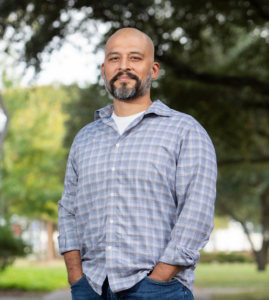 Students like Antonio Aranda come to HBU via an untraditional route. Aranda enlisted in the Marine Corps in 1996 and served in roles including as a field artillery cannoneer, an embassy guard in Cuba and Columbia, and as a helicopter crew chief.
"While serving overseas at two different embassies, I got to see how the State Department and other agencies interacted with its host country," Aranda said. "I got interested in international relations and figured I better learn how my own government works before I try and understand another."
At HBU, Aranda studies political science. "I really enjoy the work ethic of the HBU staff and professors," he said. "Their willingness to work with me as a veteran has been a great experience thus far. They're approachable, professional, patient and appreciated."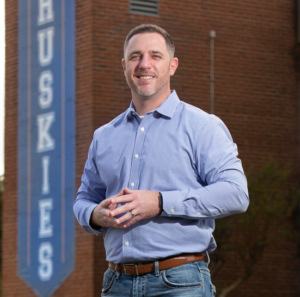 Biblical studies major Cody Harrington chose HBU's Christian approach to education to earn a degree in biblical studies. He enlisted in the US Army in 2004 as an airborne mechanic, served in Alaska, and was deployed to Iraq and Afghanistan. Harrington is now the chaplain of the Husky Veterans Association and is a team leader for the Navigators ministry of HBU.
"The staff of the HBU Veterans Affairs Office always put your needs first. The staff has walked me through the process of transitioning to college life and has given me a home away from home. They have given me a space to grow my character and helped me through the process of class scheduling and organizing," Harrington said. "My plans are to continue to work alongside veterans and help them transition to civilian life after service and to open a business to put my community to work. I will use the skills I've learned at HBU and in the military to become a servant leader in my community."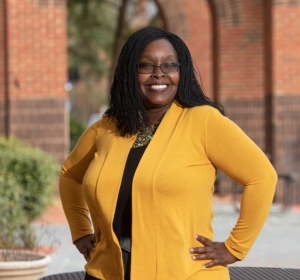 International student Seraphine Muthoka is also earning a degree to better serve others. The Nairobi, Kenya native chose HBU because of its faith component and its Doctor of Education in Executive Educational Leadership program.
After earning bachelor's and master's degrees in Kenya, and serving in a supervisory role at a bank, Muthoka sought out a program that would further her leadership capabilities. Muthoka decided upon HBU, and worked with the HBU International Office to help her enroll and transition. Now, she is the first international HBU EdD candidate.
"There are so many things I want to do with my doctorate," Muthoka said. "The person you are when you start a doctorate is not the same person you are when you finish. It's supposed to make you a better person; every day you're learning something. Also, it makes me a better mother to my daughter. I wanted to open up my mind to possibilities in the world and to motivate women back in my country and here in America."
Muthoka interns in the HBU International Office where she is working on graduate assistant programs that would help HBU better compete with other university programs. She's also paving the way for other international students after her.
"I think God predestines us for places, Muthoka said. "I think HBU chose me. I think God predestined me for this exactly at the right time."