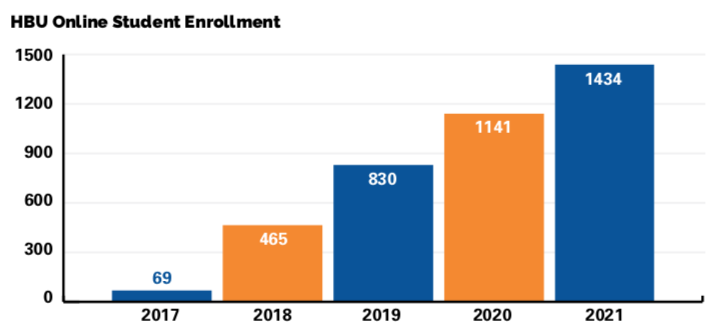 The proliferation of online education has meant an even greater opportunity for HBU to reach learners eager to obtain their degrees. Even before anyone had ever heard of online education, HBU demonstrated a willingness to reach students outside of its regular reach.
In the early 1970s, HBU partnered with area school districts to offer a concurrent program in which high school seniors could enroll at HBU and complete their senior year of high school and their freshman year of college at the same time.
Dynamic partnerships continued to shape HBU. Local media professionals helped develop a mass media degree program in the '70s, and HBU partnered with Memorial Hospital (now Memorial Hermann Hospital) for its nursing program training. The Southwestern Baptist Theological Seminary of Fort Worth established a branch on HBU's campus around the same time.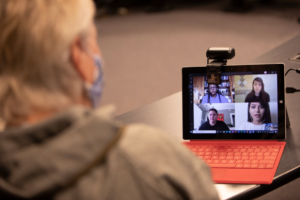 In the early 1980s, HBU offered selected graduate classes through East Texas Baptist College, the University of Mary Hardin Baylor, Howard Payne University, Wayland Baptist College, Bergstrom Air Force Base and Reese Air Force Base.
In the same decade, HBU began telecasting graduate courses through the Texas Region IV Educational Service Center Network. And an innovative partnership with area businesses allowed the University's highly regarded graduate business program to reach local professionals with courses at the places of their employment. Professors taught from the HBU studio, and students in satellite locations responded in real time. A courier van driver delivered books and papers to participating students and picked up completed assignments.
In the '90s, a partnership with North Harris Montgomery Community College classes served students in the north Houston area with an HBU education. In that period, the University produced television programming for the Trinity Broadcasting Network.
Today, the University maintains partnerships with school districts in which local educators may earn graduate degrees at their district site with the help of a visiting HBU professor. Students in The Academy at Houston HBU earn college credit during high school. And theology students may learn from Second Baptist Church campuses, to name a few programs.
These examples of innovative approaches and community partnerships have been HBU's characteristic approach for decades. In recent years, it was clear to HBU leadership that an online format was needed to continue to serve students near and far. HBU President Robert Sloan's vision was to carry on HBU's distinctive approach to educational excellence in a far-reaching way.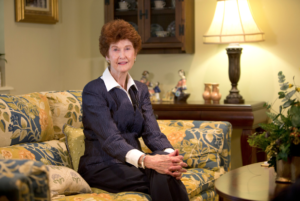 By 2016, HBU had dabbled in the online format, and Dr. Sloan assembled a task force to study opportunities to reach learners through a major digital education initiative. The same year, Houston philanthropist Pinky Pampell gave $5 million for the planned expansion of HBU's online academic platforms.
In February 2017, Dr. Steve Peterson and Dr. Jay Spencer joined the University as VP and Associate VP, respectively, for Online/Digital Learning. The two had a combined nearly 50 years in higher education, and success operating and expanding online programs at Liberty University.
"At the time, HBU had a few programs online and less than 60 online students," Peterson remembers. "The Pampell Online Division established an organized online and digital learning department that could manage marketing, enrollment and online course development at HBU. In its inaugural year, HBU Online enrolled over 300 students and established almost 16 programs of study. From the beginning of HBU's online initiative, the goal was to provide the same quality faith-based education that occurs on campus in an online format. The Pampell Online Division partnered with deans and faculty members to create high-quality, rigorous, eight-week online courses. The goal was to serve a student population that needed flexible class schedules to earn their degree."
The Pampell Online Division continued to grow and serve students in Texas, the United States, and even around the world. The University knowledge in online education proved especially useful when the COVID-19 pandemic forced HBU to move nearly 800 residential classes to remote delivery in one week. The time emphasized the need for digital programs for career professionals and traditional students alike.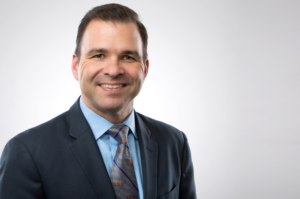 "The last year has presented challenges for everyone that have only reinforced the need for flexibility and convenience for students as they pursue their education," Peterson said. "With our online degree opportunities, many students have been able to continue uninterrupted work toward their degree or begin working on a new degree, despite these challenges."
The Online Division makes learning and degree completion easier for learners like Marisa Mullens of Tomball. She is earning a degree in psychology.
"My biggest reason for going back to college was a pull from God. When looking for a college, I wanted a school that believed in me and what I stand for, and that I could believe in as well. HBU's mission statement and focus on Jesus Christ as Lord is what ultimately helped me decide where I wanted to earn my degree," she said. "The online format works the best for me. I work 40-plus hours per week and need the flexibility online gives me."
Dalton Houser of Katy is completing a Bachelor of Business Administration in Management degree to help further his career.
"I was very nervous about returning to school after a 15-year hiatus, but I was set up for success with a great program and amazing instructors," he said. "The online program works wonderfully for me. It is set up in a way that anyone can use it. I have definitely made the right choice in schools, not only because of the great instruction, but also because of the way the school has been able to help me grow my faith even in the short time I have been attending HBU."
Kirbi Kidder of Stephenville searched for a criminal justice program and saw an ad for HBU. "I requested more information on the school, and from my very first phone call, I knew this is where I belong," she said. "Everyone was so great and genuinely helpful through the whole admissions process."
Kidder plans to become a police officer and investigator. "I am a busy single mom of three small children, and I work full-time. Online education gives me the flexibility to complete my classes at night or on weekends," she said.
HBU Online now offers 26 programs of study, including two doctoral degrees. Peterson said, "The launch of the Pampell Online Division and expansion of our program offerings would not have been possible without the generous donation of Mrs. Pinky Pampell in 2016. HBU intends to continue our work in developing and expanding our online program to honor her vision for the University through continued academic excellence and the preservation of our Christian values that set HBU apart from other institutions."