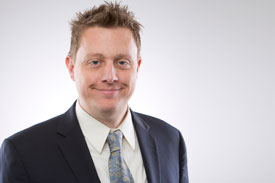 Dr. Joshua R. Farris, assistant professor of Theology, has two forthcoming publications.
"SAFE-HOUSE SOULS: Bodily Charged Souls; Responding to Hasker's Soul, Beastly, and Human," in Neue Zeitschrift für Systematische Theologie und Religionsphilosophie (forthcoming December 2016). In this article, Dr. Farris advances a critical response to William Hasker's recent critique of traditional creationist dualism in the debate on the origin of the soul.
The Soul of Theological Anthropology: A Cartesian Exploration, in the series Ashgate New Critical Thinking in Religion, Theology, and Biblical Studies ISBN 978-1-4724 -3651-1 (Aldershot: Ashgate, forthcoming December 4, 2016). In The Soul of Theological Anthropology, Dr. Farris contributes the first theologically constructive exploration in Cartesian substance dualism.
Dr. Farris has also recently published online: "Bodily-Constituted Persons, Soulish Persons, and the Imago Dei: The Problem from a Definite I, in Philosophy and Theology." Its print publication is coming in the Spring 2017. The article is available for purchase at the Philosophy Documentation Center.