I did venture out of my warren during the July 4 weekend long enough to see "Spider-Man: Far from Home." While there were imperfections, it was easily worth the time and cost.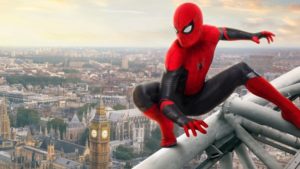 The story picks up just after the events of "Captain Marvel" and "Avengers: Endgame," but the plot can stand alone. Tom Holland and Jake Gyllenhaal do well as the hero and villain, and Samuel L. Jackson has more screen time than usual as Nick Fury. J. K. Simmons appears for the first time as J. Jonah Jameson, the newspaper editor whose main mission in life is to destroy Spider-Man; any resemblance between him and a certain other demagogue known for his rants about conspiracy theories is less than coincidence. 
The action is almost non-stop as Peter Parker and his friends lay waste to Venice, Prague, and other European cities in their efforts to bring down Mysterio, an ambiguous "visitor" from an alternate Earth who has come, supposedly, to rescue Earth from its latest invaders – four malevolent elementals. You have to sympathize with the poor Venetians; they finished up the damage done by James Bond in "Casino Royale" just in time for this demolition derby.
Be sure to stay through the credits; there are two "Easter eggs," one involving J. Jonah Jameson and another that ties this film into the next major multi-episode epic, the Kree-Skrull War.
I have not seen any reason for optimism for the weekend of July 11, but I did notice a trailer for one film I plan to avoid with every muscle in my body: a reboot of "Charlies Angels"; I was also unimpressed with the trailer for yet another version of "Terminator." The best news is that a new James Bond film with Daniel Craig is finally in production. What major city will he reduce to rubble this time?