I should have remembered Oscar Wilde's maxim: "Only mad dogs, Englishmen, and academics go out in the noonday sun." I did venture out on the August 17 weekend and the canicular days nearly did me in. The only film that sounded even remotely interesting was Cate Blanchett's "Where'd You Go, Bernadette" and I had to hope that I was not walking into a "chick-flick" or a mindless, humorless comedy. It was neither and it was worth the vexations.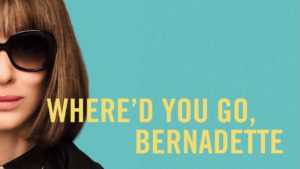 I have admired Blanchett since her first appearance in "Oscar and Lucinda" and I always take her seriously. In this film she portrays a former architect who would have had a place with Louis Sullivan, Frank Lloyd Wright, Howard Roark, and other icons. Why she walked away from such a promising career and has turned into an increasingly dangerous caricature of an affluent suburban housewife is not revealed at first.
The acting is what makes this film worth seeing; Blanchett's rebirth is subtle and powerful, but I have to admit that Billy Crudup and Emma Nelson are also very good. The film is not doing well at the box office and should be on DVD soon.
If I venture out into that noonday sun on the August 24 weekend, it will probably be to see "Angel Has Fallen." That much violence should put me in the right frame of mind to face fifty or so screaming freshmen.