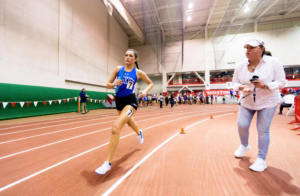 Brielle Eskridge '19 was introduced to accounting in a class during her senior year at Barbers Hill High School. "From there, I knew I wanted to stick it out and continue my education in accounting," she said.
As a cross country and track athlete specializing in the 1,500-meter run and competing in the 800-meter and distance medley relay, Eskridge found the ideal fit at HBU, where she could compete in cross country and track and specialize in her chosen field.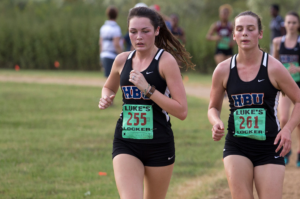 "During my time at HBU, I was a full-time student as well as a member of the cross country and track team and the HBU accounting society," she said. "It was a lot to manage, but for me, my relationship with my professors was vital. They challenged me in the classroom, and now the relationship has transitioned into a mentorship that I am able to carry into the professional world."
Eskridge fit a traditionally six-year education into five years, earning a bachelor's and master's degree. "Accounting is hard and the required classes are not easy, but my HBU education taught me how to have grit and how to work hard for what I want even when I'm under pressure," she said. "It was good practice for the workforce where there are deadlines and unexpected situations that come."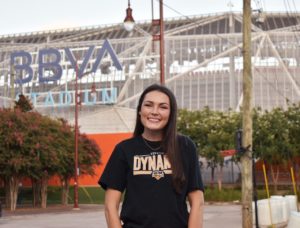 By the time Eskridge began her job as a staff accountant with the professional soccer club, Houston Dynamo, she already had two key internship experiences to put on her resume. During college, she worked in accounts payable for the Kaneka Corporation, a chemical plant, and during tax season for BKD, an accounting and advisory firm.
"That's a great benefit of accounting," Eskridge said. "You can do so many things with it. Because it's accounting and it's a specialized track, you know you have a direct career path, but there are several options within the path."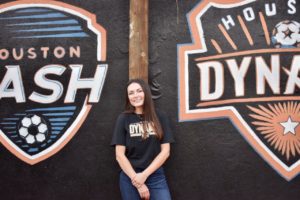 At Houston Dynamo, Brielle believed in HBU's training so much she reached out to the HBU Accounting department and helped arrange for another HBU student to work there as an intern. "My degrees from Houston Baptist University are more than pieces of paper. It is five years of hard work inside and outside of the classroom; it is the growth and development I had during my time at the University, and the guidance and mentorships I received," she explained.
HBU's program prepares learners for efficacy in whatever path they choose. Accounting graduates may work in public or private sector accounting. "HBU Accounting courses are challenging and very demanding – which I think sets you up for success. I learned how to handle things like staying organized and time management, all while developing professional skills and essential knowledge," Eskridge said. "When you graduate, the company you work for just expects you to be coachable and always willing to learn. For me, it's never boring and I'm always learning something new. In terms of future development, I would love to continue to grow within the sports industry. I love all of the moving parts the sports industry offers and I love getting to experience the big picture of it all on game days. I am a staff accountant now, but I hope to advance to staff accountant II, manager, and so on within the many years to come. My two degrees are a great foundation to my future success."